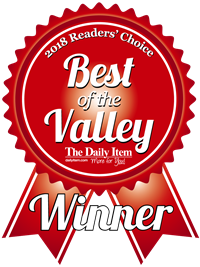 Weekly Pub Specials
Beginning 5PM on Wednesday - Week of August 14
Appetizer
Southwest Shrimp
Marinated shrimp, served over creamy polenta, topped with caramelized onions, Cotija cheese, salsa Verde & cilantro.
Salad
Beet & Goat Cheese
Sliced baby beets, goat cheese, red onions & croutons on a bed of baby greens with a fennel orange vinaigrette.
Soup
Chicken & Orzo
Roasted chicken with veggies in chicken broth, garnished with orzo pasta.
Entrée
Braised Calamari
Sliced calamari braised in tomato sauce on top of garlic basil bucatini. Served with garlic bread.
Weekly Vegetarian Ravioli
Potato & Kale Ravioli
Served with ala vodka cream sauce.

Dessert
Chocolate Peanut Butter Baked Alaska
Peanut butter chocolate cake with Reese's pieces gelato. Topped with toasted meringue.

Discounted Growler Fills
Visit us in the brewpub every Thursday for $8 64oz and $4 32oz growler fills - any beer on tap, all day long. Limit 2 per person.
fish taco night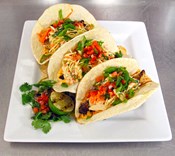 Join us every Thursday for Fish Tacos!

From 4 PM to 9 PM in our main dining area, enjoy three blackened & pan seared Mahi-Mahi fillets with pink chili mayo, tequila avocado cilantro sauce & a sweet lime mango garlic slaw.
Prime Rib Special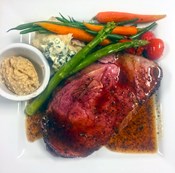 Join us every Saturday for our Prime Rib Special!

Beginning at 4 PM, enjoy hickory smoked for 12 hours & weighing in at 3/4 of a pound. Served with bleu cheese mashed red skin potatoes, seasonal vegetables, horseradish & rosemary au jus.