Weekly Pub Specials
Beginning 5PM on Wednesday - Week of July 19
Appetizer
Summer Clam Boil
Little necks, crawfish, New Zealand mussels, gulf prawns in a pale ale broth with spicy Andouille, roast corn & crusty bread.
Salad
Tropical Papaya Salad
Arugula, crisp plantains, preserved ginger baby carrots, white balsamic charred papaya with a Brule bleu cheese wedge & citrus ale vinaigrette.

Soup
Chicken Taco
With crisp tortillas, fire roasted salsa & jack cheese.
Entrée
Coffee Stout Braised Beef Short Ribs
Fork tender with roast fennel pan au jus, baby root veggies, white cheddar grits & crispy buttermilk shallots.
Dessert
Black Forest Parfait
Dark chocolate cake layers soaked with kirsch syrup, sweet mascarpone & stout cherries. Topped with Dutch chocolate drizzle, stout cherries, whipped cream & a Florentine cookie.
game room feature
Every Thursday, starting at 4 p.m., we offer a seasonally inspired feature item in our upstairs Game Room. This week's specials;
Bourbon Bacon Jam Burger
Havarti cheese, crispy onions & garlic aioli. Served with fries.

Wing Night
Join us every Wednesday, from 6 - 9PM in our upstairs Game Room, for 50 cent wings & discounted pints. We have a new wing flavor to feature each week, so keep checking back for updates. This week's special flavor is Tropical Habanero
Discounted Growler Fills
Visit us in the brewpub every Thursday for $8 64oz and $4 32oz growler fills - any beer on tap, all day long. Limit 2 per person.
fish taco night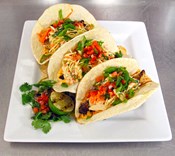 Join us every Thursday for Fish Tacos!

From 4 PM to 9 PM in our main dining area, enjoy three blackened & pan seared Mahi-Mahi fillets with pink chili mayo, tequila avocado cilantro sauce & a sweet lime mango garlic slaw.
Prime Rib Special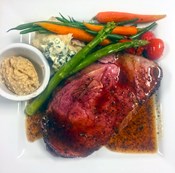 Join us every Saturday for our Prime Rib Special!

Beginning at 4 PM, enjoy hickory smoked for 12 hours & weighing in at 3/4 of a pound. Served with bleu cheese mashed red skin potatoes, seasonal vegetables, horseradish & rosemary au jus.