Weekly Pub Specials
Beginning 5PM on Wednesday - Week of Jan 17
Appetizer
Tuscan Pull-Apart Pizza
Served with shredded brisket, cheddar cheese, caramelized onions, prosciutto, Asiago, truffle oil & garlic aoli.
Salad
Grapefruit Bok Choy Salad
Bed of bok choy & arugula with slices of grapefruit, avocado, red onions & toasted walnuts with a raspberry vinaigrette.
Soup
Cream of Potato with Smoked Bacon & Sharp Cheddar
Entrée
Prime Grade Porterhouse
Cooked to temp with a red wine glaze, bourbon macerated blackberries & micro basil. Served with red skin mash & seasonal vegetables.
Weekly Vegetarian Ravioli
Local Made Fasta Pasta Ravioli
Sun dried tomato ravioli with a artichoke cream & aged provolone gratin.
Dessert
Skillet Cookie with Peanut Butter Pie Gelato
Served with a dark chocolate truffle, topped with whipped cream & trio of sauces.
Discounted Growler Fills
Visit us in the brewpub every Thursday for $8 64oz and $4 32oz growler fills - any beer on tap, all day long. Limit 2 per person.
fish taco night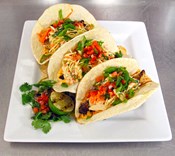 Join us every Thursday for Fish Tacos!

From 4 PM to 9 PM in our main dining area, enjoy three blackened & pan seared Mahi-Mahi fillets with pink chili mayo, tequila avocado cilantro sauce & a sweet lime mango garlic slaw.
Prime Rib Special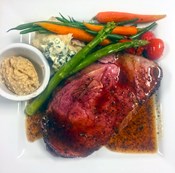 Join us every Saturday for our Prime Rib Special!

Beginning at 4 PM, enjoy hickory smoked for 12 hours & weighing in at 3/4 of a pound. Served with bleu cheese mashed red skin potatoes, seasonal vegetables, horseradish & rosemary au jus.