Weekly Pub Specials
Beginning 5PM on Wednesday - Week of Oct 17
Appetizer
Orange Sesame Glazed Ahi Tuna
Chilled glazed ahi tuna, served on grilled flat bread with roasted fennel salad & a peach reduction.
Salad
Chicken Romesco
Chicken with romesco sauce on a bed of baby greens, grape tomatoes, red onions, cucumbers, feta & croutons.
Soup
Creamy Chicken​
Served with diced chicken, cheese tortellini & roasted tomatoes.
Entrée
Mushroom Sirloin
8 oz pan seared sirloin fillet, served with Porcini mushroom jus, with caramelized onions, gruyere au gratin & butter poached vegetables.
Weekly Vegetarian Ravioli
Sweet Pea & Truffle
Served with brown butter, caramelized onions, walnuts & roasted tomatoes.
Dessert
Raspberry White Chocolate Cheesecake Parfait
Layers of cheesecake & sweet mascarpone. Topped with chocolate & raspberry sauce.
Discounted Growler Fills
Visit us in the brewpub every Thursday for $8 64oz and $4 32oz growler fills - any beer on tap, all day long. Limit 2 per person.
fish taco night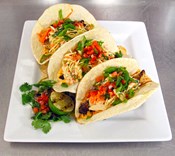 Join us every Thursday for Fish Tacos!

From 4 PM to 9 PM in our main dining area, enjoy three blackened & pan seared Mahi-Mahi fillets with pink chili mayo, tequila avocado cilantro sauce & a sweet lime mango garlic slaw.
Prime Rib Special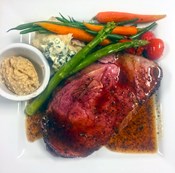 Join us every Saturday for our Prime Rib Special!

Beginning at 4 PM, enjoy hickory smoked for 12 hours & weighing in at 3/4 of a pound. Served with bleu cheese mashed red skin potatoes, seasonal vegetables, horseradish & rosemary au jus.