Weekly Pub Specials
Beginning 5PM on Wednesday - Week of May 24
Appetizer
Iron skillet Lobster Mac & Cheese
Maine lobster with 4 cheese Alfredo & a truffled panko crust.
Salad
Cranberry Walnut Chicken Salad
Baby greens, grilled chicken tenders, feta, caramelized walnuts & oranges served with a citrus vinaigrette & a sour dough crostini.

Soup
Cream of Herbed Chicken with wild Mushrooms & Prosciutto Bacon


Entrée
Veal Wellington
Pretzel crusted tenderloin, wrapped with puff pastry served with braised red cabbage, swing tree ale pan sauce & a herbed spaetzle.
Dessert
Skinny New York Cheese Cake
Topped with peanut butter crunch bar, a flourless chocolate truffle, whipped cream, Spanish peanuts & a trio of sauces.
game room feature
Every Thursday, starting at 4 p.m., we offer a seasonally inspired feature item in our upstairs Game Room. This week's specials;
Bacon Bacon Burger
6 slices of smoked bacon, bacon aioli, arugula, tomato. Served with bacon dusted fries.
Fried Chicken with Plum Sauce
Served with skinny fries.

Wing Night
Join us every Wednesday, from 6 - 9PM in our upstairs Game Room, for 50 cent wings and discounted pints. We have a new wing flavor to feature each week, so keep checking back for updates. This week's special flavor is Sweet BourbonTeriyaki
Discounted Growler Fills
Visit us in the brewpub every Thursday for $8 64oz and $4 32oz growler fills - any beer on tap, all day long. Limit 2 per person.
fish taco night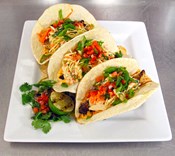 Join us every Thursday for Fish Tacos!

From 4 PM to 9 PM in our main dining area, enjoy three blackened and pan seared Mahi-Mahi fillets with pink chili mayo, tequila avocado cilantro sauce and a sweet lime mango garlic slaw.
Prime Rib Special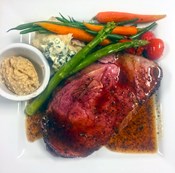 Join us every Saturday for our Prime Rib Special!

Beginning at 4 PM, enjoy hickory smoked for 12 hours and weighing in at 3/4 of a pound. Served with bleu cheese mashed red skin potatoes, seasonal vegetables, horseradish & rosemary au jus.