Weekly Pub Specials
Beginning 5PM on Wednesday - Week of Sept. 27
Appetizer
Pierogies
Fresh dough filled with potato, sharp cheddar & ale onions with roast sweet tomatoes, wilted baby spinach, shaved Asiago & sage brown butter.
Salad
Cheese Tortellini Caprese
Heirloom teardrop tomatoes, aged balsamic, xvoo, pesto mozzarella, shaved parm, sour dough crostini & organic baby greens.
Soup
Puree of Roasted Red Pepper & Smoked Gouda


Entrée
Memphis Hot Sandwich
Spicy southern fried chicken breast, butter pickle relish, sweet slaw, garlic aioli & baby arugula.
Rack of Pork
Pale-ale brined, char-grilled double center cut chop, vanilla peach & apple chutney, Blackberry merlot demi- glace, mashed red skins & crisp cipollini onions.
Dessert
Flourless Chocolate Torte
Individual dense cake with white ganache center, cinnamon espresso gelato & vanilla bean anglaise & berry compote.
game room feature
Every Thursday, starting at 4 p.m., we offer a seasonally inspired feature item in our upstairs Game Room. This week's specials;
Chicken Fajita BLT
Charred onions & peppers with chipotle slab bacon, arugula, smoked gouda, ranch aioli & crispy buttermilk onions.
Wing Night
Join us every Wednesday, from 6 - 9PM in our upstairs Game Room, for 50 cent wings & discounted pints. We have a new wing flavor to feature each week, so keep checking back for updates. This week's special flavor is Red Curry Sesame Ginger.
Discounted Growler Fills
Visit us in the brewpub every Thursday for $8 64oz and $4 32oz growler fills - any beer on tap, all day long. Limit 2 per person.
fish taco night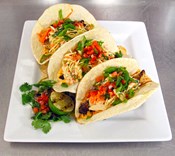 Join us every Thursday for Fish Tacos!

From 4 PM to 9 PM in our main dining area, enjoy three blackened & pan seared Mahi-Mahi fillets with pink chili mayo, tequila avocado cilantro sauce & a sweet lime mango garlic slaw.
Prime Rib Special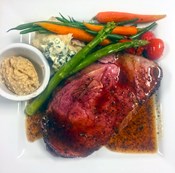 Join us every Saturday for our Prime Rib Special!

Beginning at 4 PM, enjoy hickory smoked for 12 hours & weighing in at 3/4 of a pound. Served with bleu cheese mashed red skin potatoes, seasonal vegetables, horseradish & rosemary au jus.