Weekly Pub Specials
Beginning 5PM on Wednesday - Week of April 18
Appetizer
Chicken Pot Stickers
Pan seared dumplings filled with sweet Asian slaw, ginger yams & sesame plum BBQ drizzle. Served with pickled cilantro cucumbers.
Salad
Sesame Ahi Tuna
Organic greens with scallions, radish, crispy wanton, & pickled ginger. Drizzled with spicy soy sauce & cilantro lime vinaigrette.
Soup
Smoked Brisket & Barley
Entrée
Pretzel Crusted Atlantic Filet of Cod
Crispy pan seared with Dijon butter beurre blanc, ale battered green beans, roast tomato relish & lemon-zest couscous risotto.
Weekly Vegetarian Ravioli
Sun-dried Tomato Ravioli
Red pepper romesco with chiffonade basil & olive oil.
Dessert
Dark Chocolate Cheesecake
New York style marbled with vanilla bean custard. Served with strawberry compote, real whipped cream & a trio of sauces.

Discounted Growler Fills
Visit us in the brewpub every Thursday for $8 64oz and $4 32oz growler fills - any beer on tap, all day long. Limit 2 per person.
fish taco night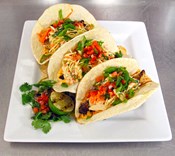 Join us every Thursday for Fish Tacos!

From 4 PM to 9 PM in our main dining area, enjoy three blackened & pan seared Mahi-Mahi fillets with pink chili mayo, tequila avocado cilantro sauce & a sweet lime mango garlic slaw.
Prime Rib Special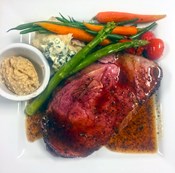 Join us every Saturday for our Prime Rib Special!

Beginning at 4 PM, enjoy hickory smoked for 12 hours & weighing in at 3/4 of a pound. Served with bleu cheese mashed red skin potatoes, seasonal vegetables, horseradish & rosemary au jus.