Weekly Pub Specials
Featured Dishes
Available beginning Nov 19th, at 4pm
SOUP Beef Barley - Seasoned beef stewed with onions, celery, carrots and herbs, finished with tender barley and garnished with parmesan cheese.

SALAD
Greek Chicken Salad - Marinated, grilled chicken on a bed on mixed greens topped with black and green marinated olives, red onion, cucumber, tomatoes and feta cheese, finished roasted red pepper and feta vinaigrette.

APPETIZER
Deep Fried Deviled Eggs - Crispy panko coated egg white, fried and filled with a rich, spiced yolk mixture, garnished with scallions and bacon.

ENTREE
Smoked Salmon Linguini - House smoked salmon, asparagus, and blistered tomatoes on a bed of linguini finished with a lemon dill cream sauce.

DESSERT
Pumpkin and White Chocolate Custard Tart - Creamy pumpkin and white chocolate custard, infused with spices, served in a gingerbread crust with salted caramel drizzle.
Discounted Growler Fills
Visit us in the brewpub every Thursday for $8 64oz and $4 32oz growler fills all day long. Limit 2 per person. Some exceptions apply.
fish taco night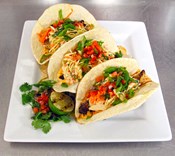 Join us every Thursday for Fish Tacos!

From 4 PM to 8 PM in our main dining area, enjoy three blackened & pan seared Mahi-Mahi fillets with pink chili mayo, tequila avocado cilantro sauce & a sweet lime mango garlic slaw.
Saturday Specials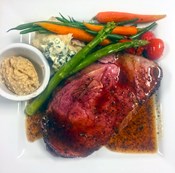 Beginning at 4 PM enjoy our Prime Rib, hickory smoked for five hours & weighing in at 3/4 of a pound. Cooked to desired temperature and served with garlic red skin mashed, seasonal vegetables, horseradish & rosemary au jus. Available every Saturday with the exception of the first Saturday of the month.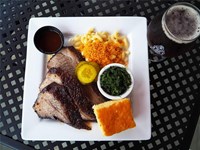 Beginning at 4 PM on the first Saturday of every month, try our new Brisket Platter! Hickory smoked for 14 hours and accompanied by house-made cooper sharp macaroni and cheese, tangy southern collard greens, house-made corn muffin w. sweet butter, our own bread & butter pickles, and spicy barbeque sauce.