Weekly Features
WEEKLY FEATURES
Starting at 4pm 8/12/22
Sweet Seared Scallops
Pan seared scallops, butternut squash puree, candied Rusty Rail bacon and chive oil, garnished with spiced carrot straws.
Summer Vegetable Tortellini
Sautéed local zucchini, yellow squash, onions, peppers, tomatoes, carrots, kidney beans and fresh herbs garnished with cheese tortellini.

Watermelon Feta and Blueberry
Diced watermelon, blueberries, red onion, cucumbers, and feta, with a lime basil vinaigrette, served on a bed of mixed greens.

Cheesesteak Macaroni and Cheese
Sliced Philly steak, fire roasted onions and pepper and cooper cheese sauce tossed with elbow macaron, served in a skillet, garnished with mozzarella cheese and onion straws.

Strawberry Cheesecake Torte
Layers of strawberry cake, strawberry ganache and New York cheesecake, garnished with berry coulis and fresh strawberries.

Discounted Growler Fills
Visit us in the brewpub every Thursday for $8 64oz and $4 32oz growler fills all day long. Limit 2 per person. Some exceptions apply.
Taco Thursday
Join us every Thursday for Tacos from 4 PM to 8 PM in our main dining area.
Mahi
Juicy, blackened Mahi Mahi, spicy slaw, avocado crema, mild pico de gallo and fresh green onions wrapped in a grilled flour tortilla.
Asian Pork Tacos
Crispy fried pork belly tossed in Korean BBQ sauce, cabbage, pineapple salsa and sriracha aioli on a grilled flour tortilla.
Barbacoa
Braised ribeye, cabbage, cotija cheese, pickled red onions, fresh cilantro, served on a grilled tortilla.
Sampler
One of each of the above.
Saturday Specials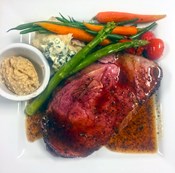 Beginning at 4 PM enjoy our Prime Rib, hickory smoked for five hours & weighing in at 3/4 of a pound. Cooked to desired temperature and served with garlic red skin mashed, seasonal vegetables, horseradish & rosemary au jus. Available every Saturday with the exception of the first Saturday of the month.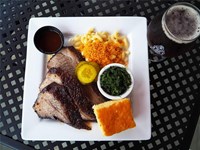 Beginning at 4 PM on the first Saturday of every month, try our new Brisket Platter! Hickory smoked for 14 hours and accompanied by house-made cooper sharp macaroni and cheese, tangy southern collard greens, house-made corn muffin w. sweet butter, our own bread & butter pickles, and spicy barbeque sauce.