Weekly Pub Specials
Featured Dishes
Available beginning September 24th, at 4pm
SOUP Chicken Taco Soup - Chunks of roasted chicken, pinto beans with scallions, and shredded cheese.
SALAD BBQ Chicken Salad - Our greens salad with shredded cheese, roasted chicken glazed with BBQ sauce, warm dinner roll, choice of dressing.
APPETIZER Jamaican Jerked Wings - 8 of our signature smoked wings tossed in Jamaican Jerk Sauce, choice of ranch or bleu cheese, celery, carrots.
ENTREE Beast Burger - 8oz blend of wild boar, wagyu, elk, and bison served on brioche, L.T.O, pickled jalapeno, jalapeno ranch, RR signature bacon, sharp white cheddar, ale onions.

DESSERT Gingersnap spiced Wolf King stout cake, orange spiked mascarpone filling, green apple coulis.
Discounted Growler Fills
Visit us in the brewpub every Thursday for $8 64oz and $4 32oz growler fills all day long. Limit 2 per person. Some exceptions apply.
fish taco night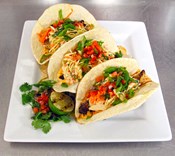 Join us every Thursday for Fish Tacos!

From 4 PM to 8 PM in our main dining area, enjoy three blackened & pan seared Mahi-Mahi fillets with pink chili mayo, tequila avocado cilantro sauce & a sweet lime mango garlic slaw.
Saturday Specials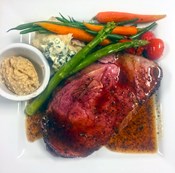 Beginning at 4 PM enjoy our Prime Rib, hickory smoked for five hours & weighing in at 3/4 of a pound. Cooked to desired temperature and served with garlic red skin mashed, seasonal vegetables, horseradish & rosemary au jus. Available every Saturday with the exception of the first Saturday of the month.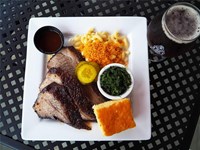 Beginning at 4 PM on the first Saturday of every month, try our new Brisket Platter! Hickory smoked for 14 hours and accompanied by house-made cooper sharp macaroni and cheese, tangy southern collard greens, house-made corn muffin w. sweet butter, our own bread & butter pickles, and spicy barbeque sauce.