March 04, 2016
9:00 PM

to

11:00 PM
Location:
Rusty Rail Brewing Company
5 North Eighth Street, Suite 1
Mifflinburg, PA 17844
What does Austin-influenced, rural-Pennsylvanian, indie sisterfolk sound like? Verbosity aside, it sounds uniquely like The Hello Strangers, a band fronted by sister duo Larissa Chace Smith and Brechyn Chace, whose haunting harmonies and original, wittingly noir songwriting style are the backbone of their sound.
The Hello Strangers just released their first full-length, self-titled album with multi-award winning (Grammy, Emmy, Dove,Tele) IMI Records in Nashville, Tennessee. The album features 11 originals and 2 covers, including "What You Don't Know," written by, and featuring on vocals, Jim Lauderdale; and "Que Sera, Sera," an homage to their grandfather, Ronald Chace, who sang with Doris Day.
In 2012, Larissa and Brechyn won AirPlay Direct's "Win An Americana Record Deal" contest, giving them the opportunity to work with Steve Ivey of IMI, and a host of other talented industry professionals, on their 2014 album.
The Hello Strangers have shared the stage with Jim Lauderdale and Robert Earl Keen; have performed at Music City Roots, The Bluebird Cafe, Philadelphia Folk Fest, and The Birchmere; spent 8 weeks on the Americana Music Chart; and can be heard on Sirius XM Outlaw Country & The Village as well as radio stations worldwide.
The Hello Strangers were born out of the Austin, Texas music scene in 2006 when the sisters wrote their first song together, entitled "Pregnant in Jail." Based on true events, it was a preamble to a string of original tunes the pair crafted in a little cottage off South Congress Avenue. Soon, however, the mountains of Pennsylvania beckoned the girls back north, and so they packed up their lives, dogs, and Larissa's husband and returned to their two-stoplight hometown.
The move has since proven to be a boon for the duo. The sisters have created a catalogue of original music with nods to American folk traditions, modern indie rock, Texas country-folk, and roots rock, all tied together with lilting harmonies that only sisters can create. Timeless imagery and fables are at the core of each song, from tales of a boggy creek bottom where a murdered man sleeps, to a Texas roadhouse with bawdy dancers and clinking beer bottles, to more poignant reflections on the loss of winter or a man gone wrong.
The sisters are supported by a dynamic and talented trio: Spencer Pheil on lead guitar, Trent Renshaw on drums, and Tom Hoy on bass.
Praise for The Hello Strangers
March 04, 2016
9:00 PM

to

11:00 PM
Location:
Rusty Rail Brewing Company
5 North Eighth Street, Suite 1
Mifflinburg, PA 17844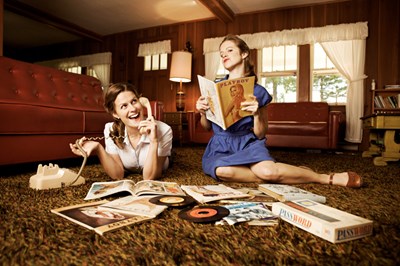 "...a quirky sense of humor and some spine-tingling harmonies. Highlights include a spooky-as-hell version of Jim Lauderdale's 'What You Don't Know' and a sweet, twangy take on the Doris Day standard 'Que Sera Sera,' (a tribute to their grandfather, Ronald Chace, who sang with Day). But the album also boasts 11 impressive originals, all of them set to a cool Carter Sisters meets-Indigo Girls vibe." - Stephen L. Betts/Rolling Stone
"This album is just brilliant…and deserves to be heard – and heard often. Listen and see if you don't agree!" - Chuck Dauphin, Music News Nashville/Billboard
"A satisfying mix of smart songwriting and memorable melodies — not to mention the undeniable sibling harmonies." - Craig Shelburne, CMT Edge
"The sister duo's self-titled album iis one of the year's strongest debut albums. Brechyn Chace and Larissa Chace Smith serve up a delightful collection of songs, ranging from the raucous singalong 'What It Takes to Break A Heart' to the honky-tonking 'Ruined' to a sweet version of 'Que Sera, Sera,' which pays tribute to the sisters' grandfather, who sang with Doris Day in the '40s. And there's an appearance from Jim Lauderdale (on 'What You Don't Know), which is always a bonus." - Juli Thanki, Engine145/The Tennessean
"The Hello Strangers demonstrate the kind of credence that only happens when worldly experience is paired with shattered sentiment. These two ladies certainly stand out on their own. Country credence is assured, and with it, a very promising future indeed." - Lee Zimmerman, No Depression
"Completely captivating." Robert K. Oermann, Music Row Magazine