June 07, 2019
9:00 PM
Location:
Rusty Rail Brewing Company
5 N. Eighth St.
Mifflinburg, PA 17844
TICKETS
Reserved Seating - $20
General Admission - $17
Day of Walk Up - $25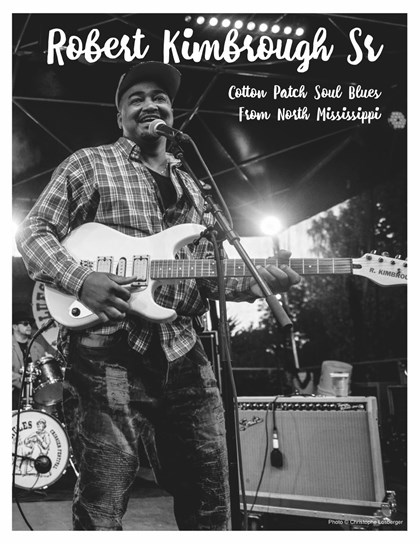 Robert Kimbrough Sr.
About:
Robert Kimbrough Sr continues the Cotton Patch Soul Blues style created by his father, the legendary Junior Kimbrough. From an early age, Robert was steeped
in the sounds and life of North Mississippi and its distinctive style of blues. Growing up, Robert listened,first-hand to Mississippi blues royalty that played withhis father at home, at Junior's Juke Joint Club, and the ever frequent weekend house party and porch jam session. The blues was simply part of everyday life as
a Kimbrough. Robert continues his father's musical tradition, along with some of his siblings. You can oftenfind many of them sharing the stage on any given nightin Mississippi. The Kimbrough name, along with the Burnside name, is part of a blues dynasty that remains strong today, bringing people from all over the world to see and hear them play.
The Cotton Patch Soul Blues style that Robert plays is a straight link to the music that his father originated in North Mississippi. It is a deep soul sound that can be linked back to his ancestors coming from the cottonfields, singing and 'hollering' as they worked in the tallrows of Mississippi cotton. This distinct and somewhat underground style of blues is rooted in hypnotic,rhythms and dance-able grooves. The Black Keysreleased an entire album in 2006 of Junior Kimbrough cover songs called Chulahoma: The Songs of Junior
Kimbrough. Up until the mid 80s, the only way to hearthis music was to visit a church-turned-blues-denfounded by Junior Kimbrough in Chulahoma, MS that unfortunately burned down in 2000.
Robert Kimbrough Sr. Blues Connection can be seen on the Mississippi blues series "Mojo Hands and Moonshine," Episode 2: Paul MacLeod Has Left The Building. In this episode, blues impresarios Roger Stolleand Jeff Konkel visit the site of Junior Kimbrough'sburned down Juke Joint and interview Robert Kimbrough about Junior Kimbrough's music and the music tradition that Robert is carrying on
.