September 29, 2017
9:00 PM
Location:
Rusty Rail Brewing Company
5 N. Eighth St.
Mifflinburg, PA 17844
TICKETS
Reserved Seating - $20
General Admission - $17
Day of Walk Up - $25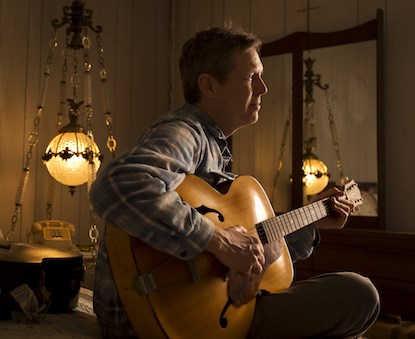 Robbie Fulks
About:
Robbie Fulks was born in York, Pennsylvania, and grew up in a half-dozen small towns in southeast Pennsylvania, the North Carolina Piedmont, and the Blue Ridge area of Virginia. He learned guitar from his dad, banjo from Earl Scruggs and John Hartford records, and fiddle (long since laid down in disgrace) on his own. He attended Columbia College in New York City in 1980 and dropped out in 1982 to focus on the Greenwich Village songwriter scene and other ill-advised pursuits.
In the mid-1980s he moved to Chicago and joined Greg Cahill's Special Consensus Bluegrass Band, with whom he made one record (Hole in My Heart, Turquoise, 1989) and toured constantly. Since then he has gone on to create a multifarious career in music. He was a staff instructor in guitar and ensemble at Old Town School of Folk Music from 1984 to 1996. He worked on Nashville's Music Row as a staff songwriter for Songwriters Ink (Joe Diffie, Tim McGraw, Ty Herndon) from 1993 to 1998. He has released 10 solo records on the Bloodshot, Geffen, Boondoggle (self), and Yep Roc labels, including the influential early altcountry records Country Love Songs (1996) and South Mouth (1997), and the widely acclaimed Georgia Hard (2005).
Radio: multiple appearances on WSM's "Grand Ole Opry"; PRI's "Whadd'ya Know"; NPR's "Fresh Air," "Mountain Stage," and "World Cafe"; and the syndicated "Acoustic Cafe" and "Laura Ingraham Show." TV: PBS's Austin City Limits; NBC's Today, Late Night with Conan O'Brien, Last Call with Carson Daly, and 30 Rock. TV/film use of his music includes True Blood, My Name Is Earl, Mary Shelley's Frankenhole, Very Bad Things, and Flintstones in Viva Rock Vegas, and he has voiced or sung campaigns for Budweiser, McDonald's, Nickelodeon, and Applebee's. From 2004 to 2008, he hosted an hourlong performance/interview program for XM satellite radio, "Robbie's Secret Country." His compositions have been covered by Sam Bush, Kelly Hogan, Sally Timms, Rosie Flores, John Cowan, and Old 97's.
Robbie's writing on music and life have appeared in GQ, Blender, Chicago Reader, DaCapo Press's Best Music Writing anthologies for 2001 and 2004, Amplified: Fiction from Leading Alt-Country, Indie Rock, Blues and Folk Musicians, and A Guitar and A Pen: Stories by Country Music's Greatest Songwriters. As an instrumentalist, he has accompanied the Irish fiddle master Liz Carroll, the distinguished jazz violinist Jenny Scheinman, and the New Orleans pianist Dr. John. As a producer his credits include Touch My Heart: A Tribute to Johnny Paycheck (Sugar Hill, 2004) and Big Thinkin' by Dallas Wayne (Hightone, 2000). Theatrical credits include Woody Guthrie's American Song and Harry Chapin's Cottonpatch Gospel. He served twice as judge for the Winfield National Flatpicking Guitar competition. He tours yearlong with various configurations and plays a weekly residency at the Hideout in Chicago. His 11th record, Gone Away Backward, returned him to his bluegrass days and extends the boundaries of that tradition with old-time rambles and sparely orchestrated, acoustic reflections on love, the country life, the slings of time, and the struggles of common people. His latest album Upland Stories (2016) continues this tradition with the additional of drums and several electric instruments. Both albums were recorded by Steve Albini
"Fulks is a gifted guitarist, a soulful singer with an expressive honky-tonk tenor, and a natural performer. But what really sets him apart is his songwriting, which is one part artful country, one part artful sendup of country and one part a little of everything else... It's sort of country meets David Lynch." - New York Times
"Fulks sounds like the wiseass bastard son of Roger Miller --high praise indeed" - Rolling Stone
"If country music has an Elvis Costello, it's Robbie Fulks, whomarries Ivy League cleverness to an appreciation of hillbilly music that actual hillbillies could only envy- Entertainment Weekly