November 18, 2015
9:00 PM

to

11:00 PM
Location:
Rusty Rail Brewing Company
5 North Eighth Street
Suite 1
Mifflinburg, PA 17844
Patrick Sweany likes the spaces in between.
On a given night (or on a given album) he'll swing through blues, folk, soul, bluegrass, maybe some classic 50s rock, or a punk speedball. He's a musical omnivore, devouring every popular music sound of the last 70 years, and mixing 'em all together seamlessly into his own stew. Yet, the one thing that most people notice about Patrick isn't his ability to copy - it's his authenticity. Like his heroes, artists like Bobby "Blue" Bland, Doug Sahm, Joe Tex, Patrick somehow manages to blend all of these influences into something all his own.
It's no wonder that as a kid he immersed himself in his dad's extensive record collection: 60s folk, vintage country, soul, and, of course, blues. Patrick spent hours teaching himself to fingerpick along to Leadbelly, Lightnin' Hopkins, and other folk-blues giants.
In his late teens, Patrick began playing the clubs and coffeehouses around Kent, OH. He quickly gained a reputation for the intricate country blues style he was developing: part Piedmont picking, part Delta slide - with an equally impressive deep, smooth vocal style.
But Patrick wouldn't stay in the acoustic world for long. His love of 50s era soul and rock fused with the adrenaline-soaked garage punk revival happening throughout the Rust Belt pushed him to form a band.
After 6 critically acclaimed records (two produced by longtime collaborator Dan Auerbach of The Black Keys), Patrick has expanded his touring radius to 49 states and Europe. He's played premiere festivals (Newport Folk Fest, Merlefest, Montreal Jazz Fest, Telluride Blues & Brews) and supported international acts such as The Black Keys, The Tedeschi Trucks Band, The Wood Brothers, Hot Tuna, and others on tour.
His latest record, Daytime Turned To Nighttime, comes out in September 2015. It was recorded in his adopted community of E. Nasheville, TN and features contributions from long-time collaborator and producer Joe McMahan (Allsion Moorer, Webb Wilder), Ron Eoff (Cate Brothers, Levon Helm), Bryan Owings (Tony Joe White, Solomon Burke), among others. For Daytime Sweany took a fairly different approach than his usual raw, intense blues sound, opting for more subtle textures and playing. Seminal 70s records by Bill Withers, Bobbie Gentry and Bobby Charles & The Band provide the sonic blueprint, while Sweany wraps his trademark baritone and impeccable acoustic slide work around songs of longing, redemption and growing up.
Praise for Patrick Sweany
November 18, 2015
9:00 PM

to

11:00 PM
Location:
Rusty Rail Brewing Company
5 North Eighth Street
Suite 1
Mifflinburg, PA 17844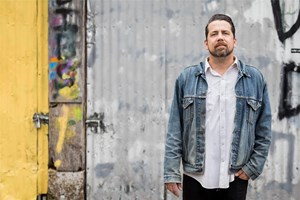 "His music has a loose, aggresive edge, but in his quiter moments, Sweany recalls the supple beauty of Ry Cooder's 70s readings of Depression-era pop blues." - MOJO (UK) "New Blues Explosion!"
"This is the kind of music Robert Johnson sold his soul for way back when — and Sweany is pouring his into it." - Esquire
"Raw and purposely unpolished, (Daytime Turned To Nighttime)'s got more in common with Delta bluesmen like Mississippi John Hurt and soul singers like Bill Withers than anything modern." - American Songwriter Magazine