March 08, 2019
9:00 PM
Location:
Rusty Rail Brewing Company
5 N. Eighth St.
Mifflinburg, PA 17844
TICKETS
Reserved Seating - $20
Reserved Bar Seat - $17
General Admission - $17
Day of Walk Up - $22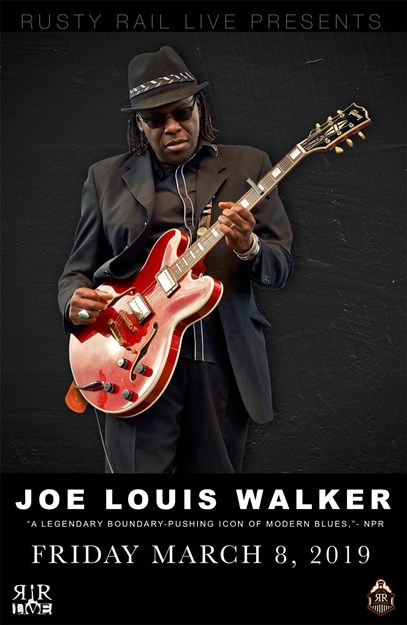 Joe Louis Walker
About:
Joe Louis Walker is a true powerhouse guitar virtuoso, unique singer and prolific songwriter. Walker, a Blues Hall of Fame inductee and four-time Blues Music Award winner, has toured extensively throughout his career, performing at the world's most renowned music festivals, and earned a legion of dedicated fans. His latest, highly-acclaimed album Everybody Wants A Piece, from Mascot/Provogue, cements his legacy as a prolific torch bearer for the blues. Looking back on his rich history, Walker shares, "I'd like to be known for the credibility of a lifetime of being true to my music and the blues. Sometimes I feel I've learned more from my failures, than from my successes, but that's made me stronger and more adventurous, and helped me create my own style. I'd like to think that when someone puts on one of my records they would know from the first notes, 'That's Joe Louis Walker.'"
Born in San Francisco on Christmas Day his parents were both from the South and they brought their love of blues with them when they headed west. Joe's dad played blues piano, and his mom played B.B. King records. Walker picked up the guitar as a child, and by the time he was 16 was regularly backing touring blues artists rolling through town. San Francisco's music scene was quickly becoming a melting pot of blues, jazz and psychedelic rock, and Walker was right in the center of it. As a 16-year-old, Walker was the house guitarist at San Francisco's famed musical playground, The Matrix, where he played with or opened shows for everyone from Lightnin' Hopkins to Jimi Hendrix to Thelonious Monk. He was also a regular at The Fillmore West. The blues legends Walker accompanied shared not only musical knowledge but also their personal wisdom with the teenage up-and-comer. Fred McDowell, Ike Turner, Albert King, Freddy King, Robert Jr. Lockwood, Lightnin' Hopkins and many others taught, fed, and chastised the youngster.
Inspired by what he learned, Walker developed his own fiery, melodic, and always unpredictable guitar attack. Walker met guitarist Michael Bloomfield in 1968 and the two became fast friends. Bloomfield helped push Walker's blues in a more rock-fueled direction, and he became the single biggest influence on Walker's sound. The two shared an apartment for years and remained close friends until Bloomfield's death in 1981. From 1975 to 1985, prior to joining Alligator Records in 2012, Walker released 23 albums and toured the world virtually non-stop. He has garnered four Blues Music Awards and has been nominated a whopping 52 times. He holds an international reputation as one of the blues' most prolific and talented stars. He's also recorded as a guest with some of the blues world's best-known artists, including appearances on Grammy-winning records by B.B. King and James Cotton.
In 2013 The Blues Foundation inducted Walker into The Blues Hall of Fame. "I am honored to be in the company of the great artists already inducted," Walker said at the time. "I hope to live up to the honor." Joining the ranks of previous inductees, including B.B. King, Hound Dog Taylor, Koko Taylor, Willie Dixon, Muddy Waters, Etta James, Howlin' Wolf and other blues greats, while still at the peak of his musical powers is, according to Walker, "a dream come true."