April 06, 2018
9:00 PM
Location:
Rusty Rail Brewing Company
5 N. Eighth St.
Mifflinburg, PA 17844
TICKETS
General Admission - $17
Reserved Seating - $22
Day of Walk Up - $25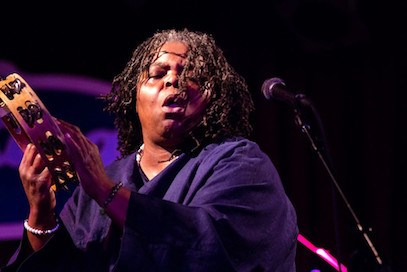 Alexis P. Suter
About:
Alexis P. Suter is the owner of that big, booming voice you can hear roaring out of Brooklyn into the heart of North America and beyond. Alexis P. and her band are on the rise as accolades pour in and they continue to captivate audiences from town to town.
Miss Suter and her powerful and unique ensemble artfully blend the lines between Blues, Soul, Roots and Rock music. Alexis' voice ranges from a pained passion to explosive and soul bearing.
When the great Bluesman B.B. King first heard Alexis sing, he was visibly impressed and said so after her opening set for him at BB Kings in NYC. Shaking his head in wonder in his characteristic way, he remarked….
"It's a rare thing to share the stage with great talent like that young lady."
Alexis has earned similar honors from other well-known musicians and performers including Dan Aykroyd and Levon Helm of The Band.

Suter and her band have been blazing trails and taking their music to festivals and venues both nationally and internationally.
Alexis burst on to the music scene as a regular performer at Levon Helm's legendary Midnight Rambles held in Woodstock, NY. Levon was captured by what he called Alexis' wonderful spirit and had her and the band open for him nearly 100 times.
"She is one of those wonderful spirits, she's got her arms around you; you can feel that"-Levon Helm
As special guest openers for The Levon Helm Band, they played to sold-out audiences at the Beacon Theater, Bethel Woods Center For The Arts, The Paramount Theatre in Asbury Park, NJ and Central Park's Summerstage.

Since then, Alexis continues to be in high demand at North American Roots and Blues festivals, venues and events. She was privileged enough to open for BB King several times at his club in New York as well as Etta James. In addition to being a featured artist in over 50 Blues and Roots festivals nationwide, Alexis and her band have been the opening act for the following artists: Bo Diddley, Trombone Shorty, The Fabulous Thunderbirds, Dickey Betts, Coco Montoya, Buddy Guy, Allen Touissaint, Emmylou Harris, Johnny Winter, Elvis Costello and for the 20 year reunion of the Muddy Waters Band.
At the highly prestigious Blues Music Awards, Alexis was nominated for Best Contemporary Female Artist in 2017, The Koko Taylor Vocalist in 2015 and for Best Soul/Blues Female Vocalist in 2013. Presented by The Blues Foundation in Memphis TN.
Television appearances include Legends, IMUS in the Morning and The Artie Lange Show.

Her song "Ride, Ride" was featured in the national commercial for howstuffworks.com.

Suter has been featured on countless on- air LIVE radio performances and interviews across the USA. "All Over Again" from their release"Two Sides" was named NPR's "Song Of The Day".

Her song "In The City" was included on the Second Volume of the "Songs After Sandy" compilation series (songsaftersandy.com) along with Sir Paul McCartney and Dave Stewart (Eurythmics).