Slam Allen
with very special guest: Gabe Stillman & the Billtown Giants
November 03, 2017
9:00 PM

to

11:00 PM
Location:
Rusty Rail Brewing Company
5 N. Eighth St.
Mifflinburg, PA 17844
TICKETS
Reserved Seating - $17
General Admission - $15
Day of Walk Up - $22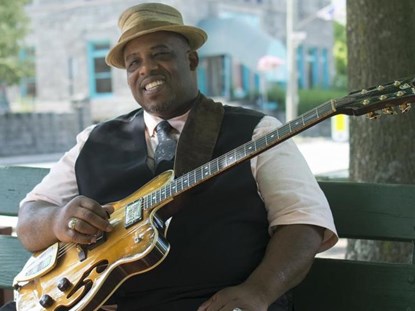 Slam Allen
About:
National Blues Music Award nominated Slam Allen is one of the last of the "Real Deal" singer, songwriter, guitarist and entertainers; playing soul and blues the way it's supposed to be done: Heart felt, joyous, and full of love and entertainment! One of the last links who was there to learn from B.B. King, James Brown, Wilson Picket, James Cotton, Otis Redding, and Muddy Waters. Slam is a living treasure that will remind you of how music can really make you feel good.
American Showplace Music recording artist Slam Allen is one of the most dynamic and original blues and soul artists on the scene today.
More that just a singer, writer, and guitar player, Slam connects with his audience like entertainers from a bygone era. Think Otis Redding, BB, Albert, and Freddie King, with a blend of Wilson Pickett, James Brown, Sly Stone and a little George Benson and Jimi Hendrix thrown in – making a Slam show a unique musical experience.
As a solo performer, Slam is the recipient of the prestigious Master Blues Artist award from the New York Blues Hall of Fame, a 2016 Blues Music Award Nominee and the proud endorsee of custom guitars by Gerhards Guitarworks and boutique amplifiers by Soul Tramp Amplification.
Growing up, Slam played drums for the family soul band "The Allen Brothers" and later on, learned guitar from his Dad, Harrison Allen and his Uncle, Cecil Allen. As he progressed in their eyes, the family knew they had a special talent to nurture!
As he developed his own style, Slam went to Chicago to learn the ways of Traditional Chicago Blues. Once there, it didn't take long before the offer of a fill in gig for the legendary harpist, James Cotton – which led to Slam spending the next 9 years (2001 – 2010) as the lead singer, lead guitarist, and band leader for Mr. Cotton. Slam is also credited with writing and singing on Cotton's 2011 Grammy nominated comeback album, "Giant."
"Cotton was directly connected to Muddy Waters, who was a major factor in the blues world – as well as being one of my all time favorites. Playing with Cotton was such a great experience for me! There are things I learned from him that you can't learn from any school. It was a great honor!" says Slam.
Now on his own, and internationally recognized as a seasoned touring veteran, Slam is dedicated to forging his own legacy in the blues and soul world. With seven original albums under his belt, Slam is here to bring back what the music world is lacking –he love and uplifting honesty that makes for a powerful and entertaining musical experience.
From B.B. King to Otis Redding, Slam has a way of making you feel the soul of the music. It's often difficult to tell if he's doing one of his originals or an old blues or soul cover. In the end it doesn't matter… Slam has a way of making all the music his own.
Gabe Stillman and the Billtown Giants
About:
"Gabe plays the blues with strength, personality, and a depth of both feeling and musicianship." —Nighthawks' founder and frontman Mark Wenner
"Gabe Stillman has got the chops and the intensity the blues should have. Keep your eye on him!" —Toronzo Cannon

Gabe Stillman & the Billtown Giants are a high-voltage blues trio that electrifies audiences with performances that showcase the band's passion, musical prowess and the joy they take in playing music together. While their sound is unmistakably rooted in the blues, the band plays both original and cover songs that draw deeply from the well of Soul, R&B, Funk, and New Orleans music.