Rusty Rail Live Presents - An Evening with:
Badfinger's Joey Molland
January 12, 2018
9:00 PM
Location:
Rusty Rail Brewing Company
5 N. Eighth St.
Mifflinburg, PA 17844
TICKETS
Reserved Seating - $23
General Admission - $20
Day of Walk Up - $30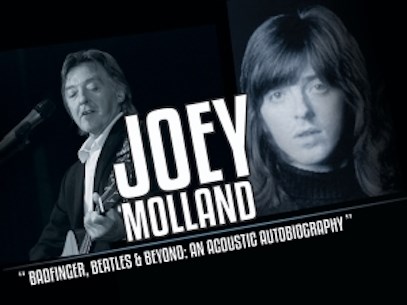 Joey Molland
"Joey Molland: Badfinger, Beatles & Beyond – An Acoustic Autobiography".
An intimate live music experience, featuring the surviving member from the classic lineup of Apple Records recording artists, BADFINGER. Joey will inject animated stories in between live acoustic performances of the band's hit singles, B sides and deep cuts, covering chapters in his life:
* Growing up in post-WWII Liverpool, England, following in the footsteps of The Beatles and becoming a musician
* The Merseyside bands he joined as a teen, and exciting experiences touring with The Who, The Rolling Stones and Small Faces
* Recreating his audition for The Iveys in winter 1969...getting hired...and the journeys that lie ahead with Badfinger
* Working in the studio with John Lennon, George Harrison, Todd Rundgren and the infamous Phil Spector
* Performing with the likes of Ringo Starr, Billy Preston, Eric Clapton, Leon Russell and of course Bob Dylan at The Concert For Bangladesh
* The real reasons behind the breakup of Badfinger
* Joey's take on the 'Breaking Bad phenomenon' in Sept 2013, when producers used "Baby Blue" for the series finale, which rocketed the song to #1 in the iTunes 'Rock' Charts worldwide, 41 years after its release!
* And Joey touches upon his solo career, including performances of songs from his latest CD release, Return To Memphis.