A Very Special Evening with:
Dave Brown & The Dishonest Fiddlers
February 08, 2019
9:00 PM
Location:
Rusty Rail Brewing Company
5 N. Eighth St.
Mifflinburg, PA 17844
TICKETS
Reserved Seating - $12
General Admission - $12
Day of Walk Up - $15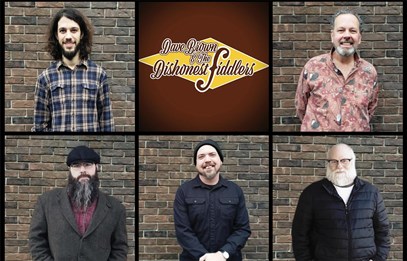 Dave Brown & The Dishonest Fiddlers
About:
Singer/songwriter Dave Brown & The Dishonest Fiddlers are an up and coming Americana/Roots band from Northeast Pennsylvania.
Traditional folk and bluegrass music are obvious influences that have helped to forge a unique, homegrown sound atop a solid musical foundation. Socially conscious songwriting and old-timey sensibilities are certain to open even the most discerning ear.
Dave's lyrics and delivery are heartfelt and authentic. Behind him lies a top-shelf string band who are a force to be reckoned with.