Wedding Signage Checklist & Ideas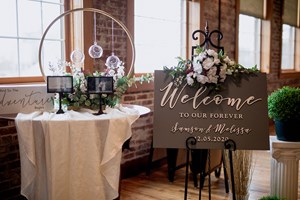 Wedding signage… what really is it? Do I really need it? Maybe these questions have been circling your brain, or maybe it's something you've yet to think about! Here's a wedding signage 101 for even the simplest couple.

What Is Wedding Signage?
Wedding signage can be absolutely anything you can imagine - A welcome sign, a seating chart, appetizer signs; you name it! Anything that needs clarification gets a sign, but signs can also be used as decoration.

Is It Necessary?
Nope! Not all signs are necessary. However, it is a good idea to consider a few signs to help point your guests in the right direction on your wedding day. They can help clear up any unanswered questions while looking great in photos!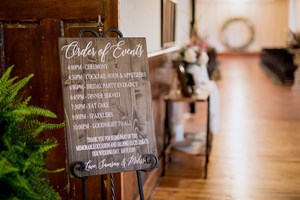 Checklist
When booking your wedding at the Rusty Rail these are the signs we will do for your wedding:
• Bar Signs - Whether you will have two bars open or one, we will do a sign for each! This shows your beer and wine selections, as well as signature drinks.
• Appetizer Signs - To clear up any confusion when it comes to apps, we'll do signs to clarify each dish for your guests.
• Dessert Signs - If you have chosen to have cupcakes, cookies, or anything more than cake, we'll make signs to explain what's what!
• Outdoor Signs - When it comes to directing guests to the right door, we use signs to do all the work! Three signs will be put outside for your guest's convenience. One by the main entrance directing your guests to our private entrance, a sign at our private entrance, and a sign directing guests upstairs to your wedding space.
• Couple's Names Signs - In our wedding suite on the second floor we always write out each couple's names on rustic frames to hang on the wall. It adds a personal touch to each wedding and is a great photo spot!
While not all signs are completely necessary, here are a few signs that are a nice touch to keep your wedding running smoothly:
• Cards & Gifts - Help your guests know which table is designated for cards and gifts by bringing your own sign, using our wooden cards and gifts sign, or asking for a handwritten sign! If you want something unique, we've got you covered; just share your thoughts with our team!
• Favors Sign - If you and your soon-to-be-spouse decided to do favors for your wedding and are thinking about putting them on a separate table, consider making a sign for them!
• Seating Chart - While this one's pretty self-explanatory, a seating chart is a great way to help guests find their seat. Read all about seating charts from our previous blog here.
• Reserved Rows - Here at the Rusty Rail we use bows to mark off reserved rows, however if you'd like a sign or indicator to match your wedding theme consider buying or DIYing your own signs!
• Wedding Hashtag Sign - Wedding hashtags are such a fun way to add some personality to your wedding while keeping everything in one place. Create a fun hashtag of a saying, your names, or an inside joke and encourage guests to use your hashtag whenever posting anything throughout the night.
• Order of Events Sign - If wedding programs aren't your thing but you still want to display your order of events for your wedding guests, put them on a large sign at the entrance of your ceremony space or in your reception/cocktail hour area! This is perfect for the guests who love to know what's happening when.
• Unplugged Sign - An unplugged wedding is when the couple asks their guests to put away their phones and cameras for the ceremony. This allows guests to be present and out of the way of the photographer. If this is something you'd like to do, place a sign where guests can see and have your officiant mention it before start time. Read some of our pros and cons to unplugged weddings here.
Don't forget about the small details! These can also play a big role while adding a special touch:
• Welcome Signs - Self-explanatory, but welcome signs are always the perfect way to create a great entrance for your guests. On a side note - you can customize these however you'd like, and this doesn't mean they necessarily have to be a sign! One of our previous couples had a painted self portrait of themselves on display by their entrance - how cute is that?
• Ceremony Seating Sign - If you'd like to go the more traditional route and ask guests to sit on a specific side, do it! But if you want your guests to sit where they'd like and not on a certain side, make a sign for it! Let your guests know they're welcome wherever they're comfortable.
• Guestbook Sign - Have some fun with this. If you've decided to do something besides a book, have some fun with the verbiage on this sign!
• Sweetheart Chair Signs - Almost like name cards but for the two of you and an adorable photo prop - is there really a bad option here?
• Entertainment / Activity Signs - If you're having a photobooth at your wedding consider adding a sign to the area so guests are aware! Kids table? Put a sign on it to add a special touch! The options are endless.
• Quote / Decorative Signs - And of course, any decorative signs you and your soon-to-be-spouse want displayed at your wedding. This could be absolutely anything, so do whatever your heart desires!
A Few Options…
Here at the Rusty Rail we are more than happy to accommodate any needs you may have with absolutely anything, but while we're on the subject of signs let's talk about it! We'll take care of the bar signs, appetizer signs, dessert signs, outdoor signs and name signs to ease your to-do list. These signs are painted with black chalk paint and calligraphy is written on with colors to match your theme! If you have any other signs in mind you'd like us to handle or want to explore your options, let a member of our team know and we'd be happy to help! Reach out for more photos of our signs for your own inspiration for your wedding as well!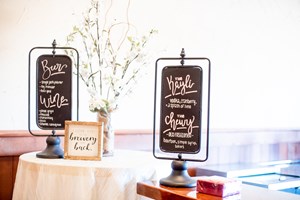 Check It Off!
Here's a checklist of the list above for your convenience!
Bar Signs
Appetizer Signs
Dessert Signs
Outdoor Signs
Couple's Names Signs
Cards & Gifts Signs
Favor Signs
Seating Chart
Reserved Rows
Wedding Hashtag Sign
Order of Events Sign
Unplugged Sign
Welcome Sign
Ceremony Seating Sign
Guestbook Sign
Sweetheart Chair Signs
Entertainment / Activity Signs
Quote / Decorative Signs

~RR Wedding Team
Photos: Emily Kane Photography and Antiquity Photography