Posted on September 24, 2020 in Rails And Veils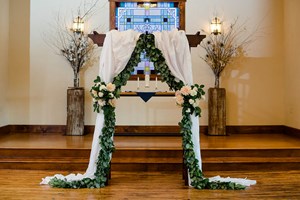 One big decision when it comes to weddings is to go unplugged, or to not? Both options have their advantages, so here are a few things to think about to make your decision as easy as can be!
Here are some advantages of an unplugged wedding!
There will be no distractions, so all of your guests will be fully present!
Y

ou will be paying a photographer to capture your day, and this ensures there will be no guests

blocking the photographers view!
An unplugged wedding also respects all of your guests' privacy. This allows you to be sensitive to

anyone who would not like their picture posted (Whether this is a group picture or a photo of the space).

There will be less risk of a guest's phone ringing during the ceremony and causing a distraction.
Along with the advantages come the disadvantages; here are a few.
You will have fewer pictures to look through, especially if you enjoy candid shots.
Your guests won't have any photos to take home with them the day of to look back on until you send them your photos from the photographer!
Some guests may be upset, but hopefully they understand and respect your decision.
There's no wrong or right answer when choosing to have an unplugged wedding or not. Some couples decide to do an unplugged ceremony only and not a reception, and other couples decide to disregard this idea at all! Just doing an unplugged ceremony allows your time to be more private, but still allows your guests to take photos of the reception! This is your big day; the choice is up to you!
~RR Wedding Team