What Not to DIY for Your Big Day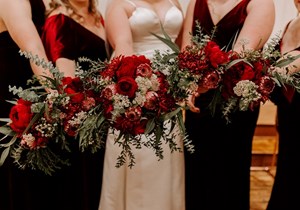 It's totally understandable - maybe you're a crafty gal or just want to save some money. DIY's can be perfect for weddings especially when adding your own touch, but some things should be left to the professionals! Here's 7 things we suggest to not DIY for your wedding day!
Everything Food
It may be tempting, cooking your own food does take out a fraction of the total cost of your wedding; but this isn't always a good thing. Food can't be prepared until the last moment before your wedding, and this will be the crunch time for you and your spouse! Save yourself the stress and let yourself enjoy the day. Talk to your venue/caterer about any details that you are unsure of or have questions about. They'll help you walk through this process and keep your mind off these details.
The Cake
If you or a family member talked about baking the cake for your wedding, consider looking into a professional. Your cake is a huge part of your wedding, if you choose to have one, and it truly is an art! Avoid the possibility of your dream wedding cake turning into the leaning Tower of Pisa or turning out a little too overdone. Besides, transportation just got that much easier! Keep in mind as well that if your baker isn't certified our team legally can't cut and serve your cake for you here at the Rusty Rail, meaning someone else from your crew will need to do so. Keep everyone's feet on the dance floor and let your baker and our team do the work!
Entertainment
Sure, you made your own playlist on your old iPhone/iPod that can run all night at your wedding. It sounds great, but this can be risky! To avoid any mishaps and to keep the night running smoothly, hire a DJ or live band to handle this aspect of your wedding for you. This way, not only does someone from your crew have to be controlling the music before you walk down the aisle and change it during dances and from time to time, the responsibility of announcements doesn't fall on anyone else! A DJ does much more than just play music, they'll handle all of your announcements for you, take charge of any reception games you and your spouse would like to do or any dances and ensure your big day runs smoothly. Our team will work alongside your DJ to keep them in the loop of any announcements we may have including the bar closing/reopening, dinner being served, or any other events that may pop up throughout the evening.
Photography / Videography
A good rule of thumb to follow is just because they have a phenomenal camera doesn't always equal phenomenal pictures! A photographer is skilled with training on angles, lighting, positioning and when to grab the perfect shot. This also keeps your great aunt or best friend present on your wedding day instead of trying to capture each moment from morning until evening. Instead, look into booking a photographer or videographer (or both!) for a few hours of your wedding. Many photographers/videographers will start in the morning and be with you for the getting ready process and stay until after the cake is cut/dinner is served. Photo edits will all be completed and a part of the package, and you can relax knowing you're in good hands.
All the Florals
Even if you've had your own flower garden for years, creating your own floral arrangements can still have its downfalls. Due to the perishable nature of flowers and greens, all arrangements and bouquets should be made the morning of your wedding. If you have lots of extra time in your morning-of timeline, great! Most chances are though your morning will be a blur and you don't want to miss the little details of your day worrying about your florals! To allow all your close friends and family to be present on your big day with you, consider hiring a professional florist to take care of all these beautiful details for you.
Hair and Beauty
On the morning of your big day you'll want to sit back and relax! Take it all in as much as you can. This includes hiring a makeup and hair artist to bring your dream wedding look to life. From my own personal experience, it's easy to think you have everything under control but one slip of your hand while applying your liquid eyeliner can be just enough to send you over the edge! Avoid this and focus on the day that's ahead of you and let someone else do all the magic.
Being Your Own Planner/Coordinator
With all the little details that go into planning your wedding day, having an appointed person in charge can make that much of a difference. Not only do they keep everything organized, they also alleviate stress from you and your family/friends on your big day. Any questions that arise will be brought to your planner to allow you to sit back and enjoy your day! Our wedding planners here at the Rusty Rail will be sure to go above and beyond to bring your dream wedding to life.

~RR Wedding Team
Photos by Haili Jean Photography