Weekday Weddings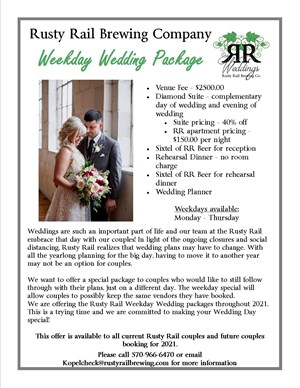 Wedding are such an important part of our lives and the planning that goes along is a stepping stone for couples to compromise and plan together. With all of the closings and uncertainty the Rusty Rail Wedding Team is always thinking of what we can do to ease the stress of planning.
We are offering the Weekday Wedding Special that allows the couples to choose another date and save costs as well. You say a weekday wedding really???
Here are some of the Pros for a weekday wedding at the Rusty Rail.
1.Venue Fee 50% off of Venue fee, plus all of the extras Rusty Rail is offering with the special
2.Wedding Vendors – They are usually available during the week, so switching or hiring a wedding vendor just got a whole lot easier
3.Lodging – Once again weekdays are open at hotels and they have lower rates
4.Guest List – this is the tricky one, but still doable. Invite the same guests that you would for a weekend and let them decide if they can attend. Your guest count may be smaller but remember this day is about the two of you.
5.Discounts – your different vendors may offer you additional discounts for booking through the week
The date shouldn't matter as long as you're marring the person that you love!!
~RR Wedding Team