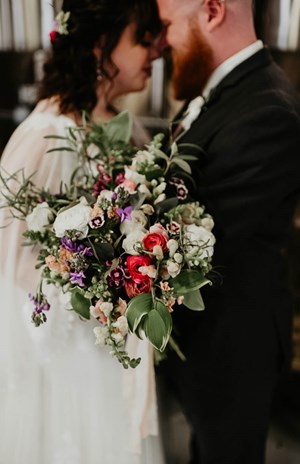 From traditional weddings to modern weddings, one thing that never goes out of style are the florals: and for the best reason too! Florals can add such a beautiful and detailed touch to your wedding day and are so customizable to suit any style. Here's everything you need to know about your wedding day florals!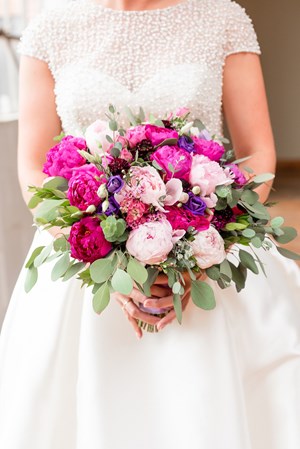 The Season
What season your wedding is in can have a major impact on what flowers you'll have to choose from for your wedding. If your heart is set on a particular flower/flowers, consider this before choosing your date and booking your venue.
Spring
A few popular spring flowers are peonies, ranunculus, roses, hydrangeas, sweet pea flowers, poppies and daffodils!

Summer
Some gorgeous summer flowers we commonly see are gardenias, orchids, dahlias, roses, carnations, peonies, anemones and hydrangeas!

Fall
Fall is the perfect time to showcase garden roses, pampas grass, calla lilies, succulents, orchids, snapdragons, sunflowers and queen anne's lace!

Winter
Don't worry, there's still plenty of beautiful flowers in winter! A few of our favorites are narcissus, lily of the valley, carnations, berries, poinsettias, roses, gardenias, amaryllis and camellias!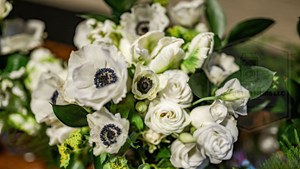 Most Popular
We've compiled a list of the most popular flowers we see here at the Rusty Rail, as well as what we commonly see being used in other weddings!
Roses
You guessed it, one of the most popular wedding flowers is the rose. With so many colors to choose from and it's beautiful, timeless touch adds to any bouquet or arrangement. The rose is perfect for any style or theme, no matter the year!

Hydrangeas
Another classic wedding flower that we commonly see are hydrangeas. These are the perfect way to fill an arrangement while adding color and a simple yet gorgeous touch.

Ranunculus
Like the look of roses but not the price? Ranunculus's are the perfect way to get that beautiful, layered flower look without breaking the bank. These come in all colors and are the perfect addition to any floral arrangement.

Dahlias
While there's only 42 species, dahlias come in hundreds of varieties. With their many styles and colors, everyone is sure to find a style of dahlia they love! Add dahlias to your bouquet with wildflowers and greens for a perfect garden wedding look or add them with flowers for a more sophisticated bouquet!

Peonies
One of the more expensive flowers is the peony, but its delicate details make it worth the extra money. It's soft yet bold touch is the perfect way to add the wow factor to your wedding florals!

Sweet Peas
These flowers are small and delicate and are the perfect way to add an old-fashioned touch. These flowers are highly fragranced with a sweet scent.

Stephanotis
If you're looking for a way to add a classic touch to your bouquet or floral arrangements, stephanotis is perfect for you! It's small star-like flowers are the perfect option if you're looking for something affordable and mildly scented.

Lilies
Two popular styles of lilies are lily of the valley and calla lilies. With its petite flowers, Lily of the Valley is perfect for that old-fashioned, timeless look. It has small, bell shaped flowers that have a sweet fragrance. Calla lilies' bold, funnel shaped flowers are the perfect touch for an elegant wedding, coming in a small variety of colors.

Tulips
Coming in many different colors, tulips are the perfect addition to your spring bouquet. They add a pop of color along with an elegant yet casual touch.

Gardenia
These strongly scented flowers grow on dark green stems with glossy leaves. While running on the more expensive side, gardenias bloom late spring to fall. Their thick petals create a gorgeous addition to any look.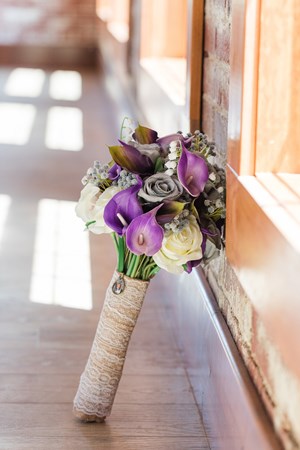 Arrangements
A list of everything you'll need florals for!
Bouquets/ Boutonnieres/ Corsages
The Bride's Bouquet
Pro tip: keep in mind different styles of bouquets, such as round, cascading, nosegay bouquets, etc. This can add so much to your wedding!
The Bridesmaids Bouquets
The Groom's Boutonniere
The Groomsmen's Boutonnieres
Mothers/ Grandmothers Corsages
Fathers/ Grandfathers Boutonnieres
Petals for the Flower Girl
Boutonniere for the Ring Bearer

Ceremony Arrangements
Welcome Sign Arrangement
Entryway/ Stand Arrangements
Arbor Florals/ Backdrop
Aisle Florals/ Seat Ends
Potted plants, flower petals, or some greenery can add so much to your aisle space.
Bridal Car
Many times, if a couple has a bridal car being used for transportation to the ceremony/to the reception/leaving the reception, it is decked out in streamers, florals, etc. - you name it! Add an arrangement on the front for an added touch.
Reception Arrangements
Centerpieces
Sweetheart/ Head Table Florals
Seating Chart Arrangement
Cocktail Hour Florals & Greenery
Typically, we add small vases to our tables in the Pardee Room during cocktail hour for a little something extra!
Bar Arrangements
If you'd like to add another pop of color and make the bar stand out, add a small arrangement here!
Appetizer Arrangements
Just think - a small floral arrangement to match the rest of your decor can add so much to an appetizer table!

Extras
Toss Bouquet
Flowers for the Cake
If this is your thing, of course!
Exit Petals/ Flowers
If you and your spouse are planning on doing a send-off, don't forget to buy extra flowers or flower petals if you're incorporating this in your send off!

~RR Wedding Team

Photography: Top to bottom - Tales and Trees Photography, Antiquity Photography, Bill Foster Films and Emily Taylor Photography