Wedding Vision: Creating Your Layout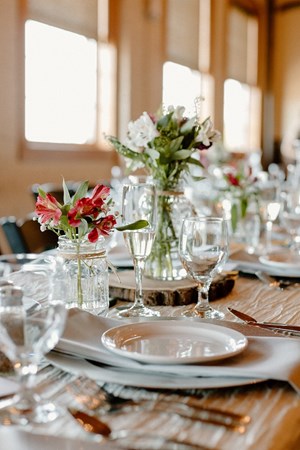 Creating the perfect layout is an essential part of your wedding day! You may be asking yourself, "what would a layout have to do with anything?" Here's our best tips when it comes to planning your reception layout and a few things to keep in mind!
Our Help!
Here at the Rail, we walk alongside you through every step of your planning process, but specifically with your layout! We'll set up a plan for your layout and refer back to you about changes, adjustments, etc. So don't worry, this isn't all up to you to create!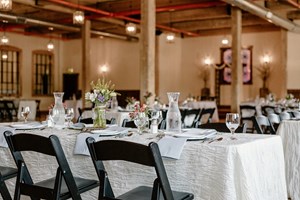 Consider the Obvious:
While our staff/your wedding planner will help you create your perfect layout, here's a few things we keep in mind when setting up your space.
Entrance
Having a great entryway to your reception space is the perfect way to welcome your guests and ensure "traffic" moves smoothly! Placing tables on either side of your door instead of directly in front allows your guests to move freely and keeps tables out of the way from blocking the door.
Dance Floor
The biggest part of planning your reception layout may easily be the dance floor! Lots of time we base the entire table set up around where you'd like your dance floor. Typically, here at the Rail, we leave a big open space in the center of our Great Room. Some couples choose to hold their reception in our Pardee Room, and the same applies here!
Movement
Keeping an open layout allows movement for not only your guests but the staff! Servers will also need space to move around, so keeping space in between your tables will make it easier for not only your guests to find their way around, but also so all your guests can be served and taken care of properly.
Vision
Being a guest at a wedding, the worst thing is having a terrible view when trying to see the couple during toasts, dances, etc. We'll be sure all your guests are able to see you (since it is your big day)! Consider this when creating your seating chart and then think about the best location for all your guests.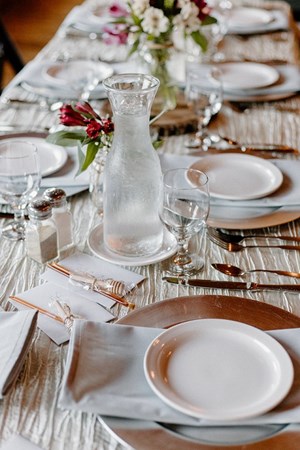 Head Table or Sweetheart Table?
Since we were just talking about your guests' vision, think about what table you'd like to sit at on your big day! The most common options are a sweetheart table or a head table, but this choice is completely up to you. Check out our previous blog "Wedding Seating 101" for more information!
How Many Guests?
One thing to also consider when thinking about your layout is your guest list. How many guests will be at each table? How many tables will you need? For round tables, we put 8 people or fewer at each table. The same for rectangles, however, by pushing two rectangle tables together you can accommodate up to twelve people instead!
Rounds Vs. Rectangles - Pros & Cons
When it comes to choosing round or rectangle tables, here's a few things to keep in mind! Either way, you can't go wrong. Both tables are great options and will look beautiful in your room set-up. If you're in between, talk to your wedding planner about using both! However, if you have a larger guest count consider using more round tables. This will allow you to fit more guests in a smaller space and still allow for more room to move around. If you have a smaller guest count, feel free to design this space the way you'd like it to fill the room!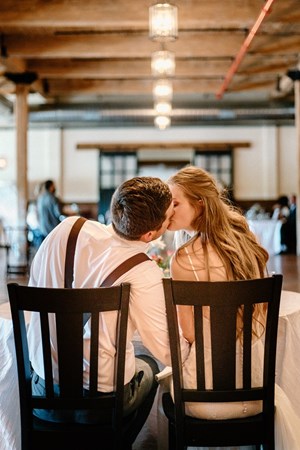 Cater to Guests Needs
When choosing which guests will sit at each table, consider their needs. Think grandparents, children, wheelchairs, etc. If you're having guests with young children, consider sitting them close to the doors so they can slip out if they need to. Or if you have older guests sit them farther away from the DJ (grandma may not appreciate being seated directly in front of the speaker)!
In Conclusion
Our staff will always be here to walk alongside you through this exciting time in your life! Don't ever feel like you have to go at it alone! Every person that's a part of our team loves what they do and wants to help you with everything, big or small!
Stay tuned for next week's blog in this series! We're so excited to start talking all about the fun stuff and how to make your vision come to life! Hint: think decor - I know, we're so excited!!! Happy Planning!
~RR Wedding Team
Photography: Stacey Everett