Wedding Vision: Ceremony Décor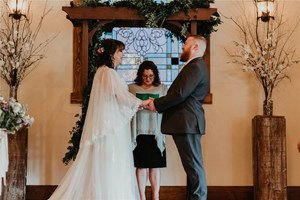 After going over all the technicalities, we are finally here - and we're so excited! Ceremony décor is such a fun way to transform your space and watch your vision come to life. Check out some of our favorite ways to create your dream ceremony vision!
Aisle Décor
Aisle décor is such a simple thing to add but can add so much more to your space. Think flower petals, candles, potted plants, lanterns, you name it! The options here are endless - keep it simple or go all out!
One tip that we love suggesting to our couples is to use the same décor for the aisle as you are for your reception table centerpieces. This saves you money and the hassle of balancing the extra décor and helps your wedding theme to flow throughout the whole day.
Focus on "from the ground up", lay a runner, flower petals or rugs for a more bohemian feel. This can add so much to your space as well!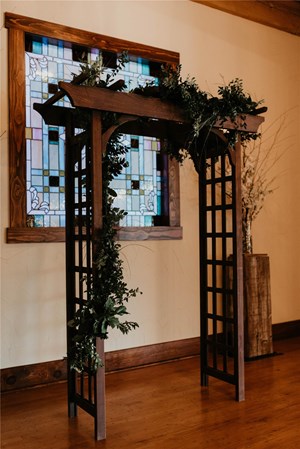 Arbor
There are so many different variations of arbors that can be used for weddings; and don't think these are only used for the ceremony! Arbors are the perfect way to bring out your theme and add so much more to your space. Add florals for a pop of color, drapes for a more rustic and elegant feel, or do something different!
Arbor alternatives are getting more and more popular and are a great way to show your personality as this will be the highlight of your ceremony space (besides you and your spouse of course). Try a differently shaped arbor like a heptagon, an arch or a circle! If you want to stay away from an actual arbor but want still want something as a focal piece, try large floral arrangements, art canvases/ walls (think different styles and create these to match your theme), ceiling arrangements (if your venue allows) such as chandeliers or draping, or don't do anything at all! There's no wrong answer here!
Barrels/ Arrangements
Here at the Rusty Rail we have Jack Daniel Barrels that couples commonly use for floral arrangements or other décor. If barrels aren't really your vibe, use stands, boxes, or even signs to add a little bit of spice to the beginning and end of your aisle!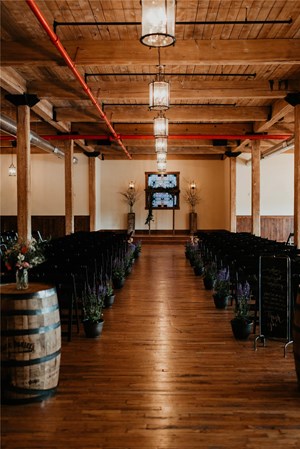 Think Up!
If making a large space feel smaller is a goal of yours or you want to bring a more welcoming/comfortable feeling in your ceremony space, think up! Draping the ceilings or adding lighting can completely transform a space and make it feel so much more welcoming to your guests. By bringing the height of the ceiling down it can make the room feel smaller, however, if you'd still like to have the large space feeling and would like to add something to the ceilings as well, this is completely possible. Think drapes that aren't as low or a few string lights to light up your room instead! Talk to your vendor about what services they offer and your ideas to create the perfect vision for your big day.
Stained Glass or Draping?
While we're on the topic of draping the ceilings, what about draping the wall behind you? At the Rail we have a beautiful stained glass window that is directly behind the couple curing the ceremony. Our stained glass window has different colored lighting to match your theme especially well! However, if stained glass isn't really your thing, consider contacting a vendor to come and drape the back! We have a list of vendors who are phenomenal to work with and can help you create your dream backdrop. Pro tip: add twinkle lights in your draping for an extra touch!
Reserved Rows
Reserved rows are very common in weddings and allows your close family/friends to be guaranteed a seat in the front. This usually includes parents, grandparents, or close friends and relatives. How does this play into décor though? Add something to the chair at the end of a row to mark the row is reserved, but also to add a little more décor! Think flowers, greens, bows, you name it!
Unity Table
If you and your spouse are planning on doing a unity during your ceremony, incorporate your table into your décor! Pick a table that matches your style/theme and add some simple decorations to make it pop. Practical, and insanely cute!
In Conclusion,
Whatever you choose to use to create your ceremony space, remember it's entirely up to you! Pull inspiration from Pinterest, magazines, and wedding websites, but don't be afraid to make your wedding "you". Happy planning!
~RR Wedding Team
Photography: Tales and Trees Photography