Wedding Party Proposals for Your "I Do" Crew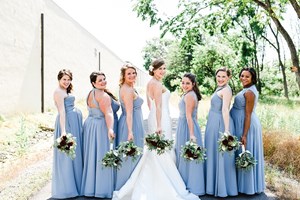 Whether you said yes or you were the one on the knee, the decision of picking who will stand by you on your big day may not seem so far away! While this is such an important decision, it is also such an exciting and memorable one. Wedding party 'proposals' don't have to just be a conversation or a phone call; however, there's nothing wrong with that either! If you want to think outside the box, here are a few fun ways to ask your soon-to-be-wedding party to be a part of your wedding!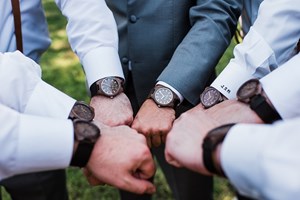 It's Time to "Propose"!
The time has come; you've decided who you'd like in your wedding party, but how do you ask? Take some inspiration from these unique ideas!
Cards/Invitations
Whether you'd like to be lighthearted with your "proposal" or heartfelt, a card can be a great way to ask the people closest to you to be a part of your wedding day. Choose cards with a joke or write your own note; you can't go wrong!

Gift Baskets
Two words… gift baskets. Seriously. These are the perfect way to ask anyone to be in your wedding party simply because of how customizable they are! Consider the style of your group when choosing gifts. Put together a pamper basket for the ladies in your life to use whenever they need, or for the night before/morning of your wedding! Throw together a shaving kit for the guys, a pair of fun socks (seems simple but really, they'll be a hit) or some beer! The options truly are endless.

Day-Of Attire
Want to get something that'll be useful on the day of your wedding? Consider getting personalized hangers for dresses or suits. Not only does this keep everyone's attire organized, it also looks great in photos! Personalized cufflinks or special accessories like a watch or a belt are perfect for the guys in your wedding party and are something they can keep with them and use in the future. Satin Robes, custom tote bags or personalized jackets can be a great idea for the bridesmaids during the getting ready process before your wedding! Added bonus - all of these ideas create great detail shots for your photographer!

Celebrate

If you want some quality time with your group while having some fun, treat them to lunch or dinner, or a night out doing something you all enjoy. This is perfect especially if your tribe doesn't all know each other, which in most cases they won't! Kill two birds with one stone and enjoy some time together celebrating this milestone.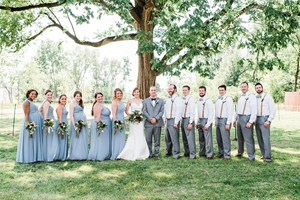 In conclusion,
No matter how you decide to ask, the most important thing is who will be standing by your side. Happy planning!
~RR Wedding Team