Wedding Highlight: Kayli & Shawn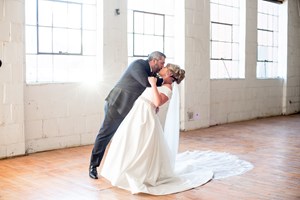 Kayli and Shawn hosted their wedding with us on March 13th and left the entire event department absolutely speechless, in the best way possible! Their wedding hinted at classy and elegant with a bit of fun, featuring gorgeous floral displays and unique touches throughout. We couldn't be more excited to share the details of their big day!
How did they meet you may ask? They were actually neighbors! Kayli was moving into a new property when she introduced herself to her neighbor. Nothing came of this, except for when Kayli decided to try Match.com one more time. She liked a profile, not thinking much of it until her neighbor messaged her in response; it was Shawn! Seriously, who would've thought?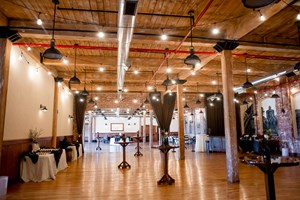 The Space!
We love seeing our venue space transform into each couple's dream wedding. However, with Kayli and Shawn it felt extra special. With draping in our Great Room and lighting hung in our Pardee Room by Affordable Events by Nicole, each room felt like an absolute dream! This truly added such a nice touch and turned out absolutely beautiful in photos.
Timeless & Elegant
Kayli made a beautiful bride and we're in love with her sense of style! Her wedding dress was simple and classy, but we think the accessories are what truly made her look! With stunning jewelry and a belt, we can't get over this timeless and elegant wedding look.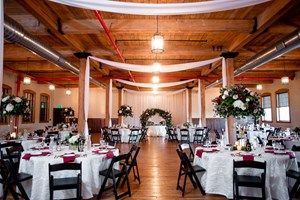 All About the Florals
From towering floral arrangements to an eye-catching floral archway - Kayli and Shawn's wedding had it all. The Details Matter were able to show their special talent with these florals! They made the perfect centerpieces for each table and created a beautiful backdrop to the sweetheart table. This look stole a little bit of all of our hearts!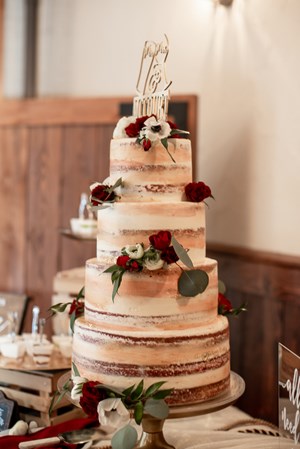 Tiered Cakes: Always In
While tiered wedding cakes aren't always the go-to when it comes to dessert, we truly believe they'll never go out of style. Gable House Bakery created a b-e-a-u-t-i-f-u-l naked tiered cake for this gorgeous wedding! With hints of red tying into the theme, roses were also placed on the cake creating a cake that looked too good to eat! (Although we already know it was delicious too.)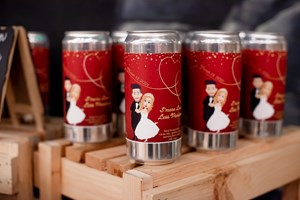 Tasty Favors
Kayli and Shawn's favors were tasty yet sweet with their personalized touch! Beer cans with the cutest label created the most perfect favors a guest could ask for. Seriously, how cute are these?
"Glowing" Send Off
Send-offs are such a great photo opportunity and create some of the best memories! Kayli and Shawn decided to put a twist on the traditional send off and used glow sticks! These colorful photo props made for a stunning background with even prettier pictures. Tara Betz from Antiquity did an absolutely beautiful job capturing all the moments of Kayli and Shawn's big day.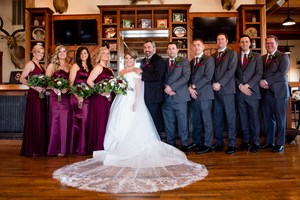 Most Importantly...
A huge thank you goes to all the vendors who made Kayli and Shawn's big day possible!
Venue - Rusty Rail
Florist - The Details Matter
DJ - Nittany Entertainment
Photographer - Antiquity (Tara Betz)
Rentals - Affordable Events by Nicole
Bakery - Gable House Bakery
Hair & Makeup - Beauty by Khara
We truly can't wait for so many more weddings here at the Rail! Every wedding has its own unique touch, and we're so excited to see what the future will bring!
~RR Wedding Team