Wedding Dress Code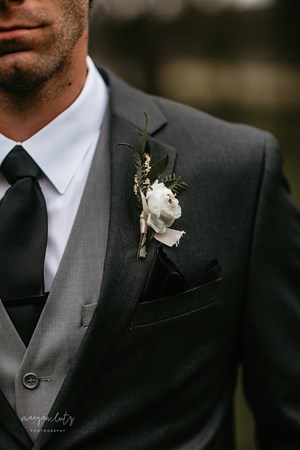 Deciding what attire you'd like your guests to wear at your wedding adds a small touch to your wedding. Of course, this is optional for every couple! However, if you're in the air about which dress code to tell your guests look at our breakdown to choosing the perfect attire for your big day!
Where to display dress code
Wedding Dress code is typically listed on your invitations. However, wedding websites are becoming more and more popular as well and can also be a great option!
White Tie
White Tie is considered to be the most formal of all. This includes ball gowns and black tuxedo with tails, a white shirt and vest, and a black bow tie. This attire is most commonly worn for formal balls, galas, and state dinners.
Black Tie
Black Tie is the next step down from White Tie. Similarly, floor length gowns are worn, and pantsuits are acceptable. A black tuxedo, a black vest, and a bowtie are also the common attire.
Formal
As for Formal attire, both floor-length gowns and cocktail length dresses are appropriate. A tuxedo or a dark suit both fit this dress code.
Cocktail
While still being classy, Cocktail is another step down that starts to introduce more comfort. Midi-dresses and knee-length dresses are commonly worn, as well as a suit and tie.
Dressy Casual
Dressy Casual is still elegant, but introduces wearing a skirt and blouse, a cocktail length dress, and dress shirt and slacks.
Casual
Unless shorts and tank tops are noted as acceptable, Casual dress includes a sundress with a sweater if it's chilly, and dress pants and a nice shirt.
Themed
Themed weddings are something that's not always heard of but can pull a wedding together! Commonly, couples ask their guests to wear a specific color to match their theme for the aesthetic but can also include matching their wedding theme.
Come as You Are
The "Come as You Are" dress code is self- explanatory but consists of your guests choosing to wear whatever they see fit for your wedding. This is based on guest comfort!
In conclusion - at the end of the day, this decision is entirely up to you! Whichever attire you choose will be the perfect fit for your wedding.
~RR Wedding Team