Time to Plan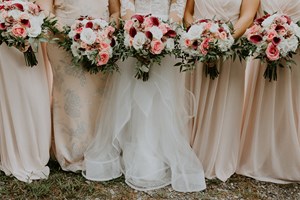 The day of a wedding can be such a mix of emotions. There are many moving parts that need to come together to have the perfect wedding. The best way to ensure everything and everybody is where they need to be when it is time, is to create a timeline.
Your day of timeline should include everything; from the early morning until the late night. Think about the day from the bride's perspective as well as from the groom's perspective. Clearly the groom isn't going to be up early to begin hair and make-up at a salon or on – site at the venue. So, what is the groom going to be doing the morning of? Maybe he will go to the barber and get a fresh shave and a haircut with the groomsmen. Maybe they are going to spend the morning on the golf course, whatever the plan is make sure it is on a timeline.
You will want to include arrival and departure times if needed. Don't forget about travel time if driving from hair salon to venue or golf course to venue. Planning delivery times with vendors need to be coordinated with the venue. You want to make sure that someone is on site to answer any questions that may come up from the vendor. Before you know it the time will come for you to say "I do!" and dance the night away!
Planning head will make the day perfect!!
~RR Wedding Team