The Season to get Married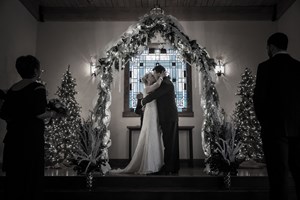 Photo captured by Christian Searer Photography
If you think about your perfect wedding I am sure a lot of details pop into your head: colors, theme, venue, flowers, cake, & so many more. Did you think about the perfect season? Summer and Fall are the most popular seasons to get married in. Whether you want a rustic wedding outside with sunflower or a simple wedding on a beach in your bare feet, there are a lot options for the perfect wedding in the Summer and Fall. What about the other 2 seasons in the year? Did you every think about a Spring or Winter wedding? Imagine a spring wedding…. You could plan for an outdoor ceremony and an indoor reception, because the nights are still chilly. Your wedding could be a vintage garden party with all the fresh flowers that bloom the spring months. Now let's talk cold, winter months. Your wedding could be a rustic cabin feel theme. Your colors could be red and black to highlight the buffalo check pattern and you could decorate with wood and pine cones.
The options are truly endless with all the possibilities for your perfect day. Before you set the date however make sure you know exactly what you want and then go from there. Select the season that best fits you!
Tell us… What season is your wedding in?
~RR Wedding Team