Staying Organized Throughout Your Planning Process
Posted on November 24, 2020 in Rails And Veils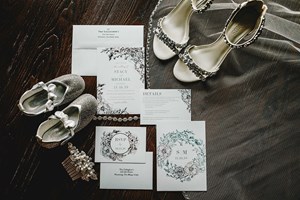 Wedding planning is such an exciting time that will be remembered for years to come. This is the time to watch all of your dreams come to life! Here's a few of our best tips to make your planning process go as smooth as can be.
Take advantage of our timeline!
• Here at the Rail we provide a premade calendar to keep you on track with all of your tasks! Every month we will email you with updates and monthly details to ensure you don't forget anything important. Color code and add these things to your calendar/ to-do list as well! Even include stickers or scrap-booking items to make this more enjoyable, or if you struggle with this idea, use this to motivate you to use your planner!
Brainstorm! Create a Pinterest board to save all of your ideas
• Take advantage of social media sites like Pinterest to brainstorm and save your ideas; it can make your planning process so much more enjoyable! Creating a board with small touches you'd like to try can help keep you on track of what your ideas are, and also keeps all your ideas together to reference back to. Of course, you're going to discover new ideas and change some things along the way, so be sure to update your board as well when you do so!
Create a separate email for everything wedding related
• In our opinion, one great way to stay organized is to create a separate email for everything in regards to your wedding. This will be the email you give your vendors and any other contacts leading up to your big day. Important emails can easily be lost in the abyss your own personal email or work email, and you don't want to miss these!
Color code a calendar/planner for all your wedding items/important dates
• Choose either your Google calendar or a paper calendar and use this consistently throughout your planning! Create a color coding system you can use to keep everything organized, and be sure to list your key somewhere in your calendar to reference back to. List all important dates such as your wedding date (obviously), your rehearsal date, your bridal shower date, dress fittings, tux fittings, tastings, you name it! Also include your to-do list with each items due date to ensure you don't forget to place your cake order or get your marriage license!
Keep everything in one place!
• Get a binder to keep all notes in and information. Even add your color coded calendar to this binder so nothing gets misplaced! Be sure to buy a big enough binder to fit everything in it that you may need. A good rule of thumb is to get a binder that's little bigger then you think you'll need so you're guaranteed to have wiggle room, and extra space to throw in that packet you realized you needed last second!
Assign your family and friends to different tasks
• It's easy to try to become a super hero when it comes to your planning, but realize you can't do it all! Your friends, wedding party and family are there to help you through this process; take advantage of it. One thing we're all guilty of at times is taking on more than we can handle, so when you're coming down to the wire with your planning consider cutting some things off your to-do list. Now, we're not talking your obligatory tasks; we're talking creating your own guestbook or handwriting calligraphy on your invitations. Cut these off your list and either forget about them or hand them off to a family member or friend, or possibly even our team to take care of to ease up your load! You'll thank yourself later.
Create a wedding website
• A wedding website is the perfect way to display all your information for all of your guests to see! Here you can include your wedding date, pictures, location, attire, a day-of timeline/schedule, a brief paragraph about your wedding party, your registry, etc! Online RSVP's are becoming more and more popular as well, and can be done through your website. Not all guests will like this idea, but by keeping your website simple and easily accessible it'll make the experience so much more enjoyable for everyone!
Packing for the day-of
• When your big day is right around the corner, packing your décor and wedding items will be at the top of your to-do list! By keeping all décor organized by borrowed and owned can be a huge help in returning it or storing it later. Also, by packing like pieces together or creating a list of what's in each box can be a great way to reference what's already packed and what still needs to be done! Once you have everything packed up and dropped off here at the Rail, we will take it away from here. All set up, tear down, and re-packaging is done by our team, and these few organizational tips can ensure that all your belongings are put right back where they belong!
~RR Wedding Team