Staying Organized On Your Wedding Day
Posted on September 11, 2020 in Rails And Veils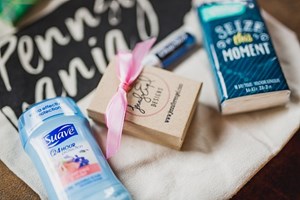 Wedding details can be easy to miss; staying organized and having a plan before your big day can be a life saver! One thing to consider is bringing two different bags; one for the getting ready process, and one for your overnight stay. Combining these items can turn into stress after your wedding. Items you need can be misplaced and lost, so keeping them separate beforehand ensures that you know where they are. Another thing to keep in mind is appointing different people with different tasks. Although our team is there to help you make your day as smooth as can be, having people who know what they are in charge of can guarantee nothing is misplaced! This may include putting someone in charge of your personal items including your phone, wallet, keys, a change of shoes, etc, and having someone responsible for your decorations, bags, and any other items you will be bringing for your wedding day. Something else to think about is making a list of everything you need to bring.
To save you some work, here are a few things that brides tend to forget!
• Bobby Pins (Sounds self-explanatory, but really!)
• Food and/or Snacks!
• Double Stick Tape
• Safety Pins
• Oil Blotting Sheets – These do a great job at removing shine without taking off your makeup!
• Pain Relievers – Advil, Tylenol, etc.
• Contact Solution
• Scissors
• A Spare Tote Bag – This can come in handy for any extra decorations or personal items at the end of the night!
Being organized and prepared makes for a stress-free day, and allows you to enjoy your special day without worrying about the little things!