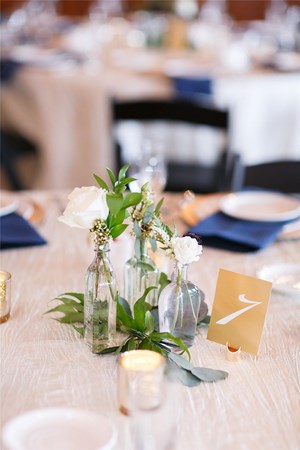 The birds are singing and so are we, we're so excited spring is here! If your wedding falls in the spring, whether this year or an upcoming year, here's a few of our favorite spring wedding ideas!
Floral Everything!
In-Season Bouquets
Talk to your florist about what flowers are in-season and how you can incorporate them into your bouquets! Consider adding a pop of color or some pastels to create a bouquet with depth and beauty!
Floral Arrangements
Whatever florals you choose to add to your bouquet(s), consider also creating floral arrangements for your guest tables, head table, and all around décor! This is the perfect way to tie everything together while adding color and incorporating the season!

Floral Prints
In your décor, add some floral prints! This could be the background of your welcome sign, in your linens, displayed in your invitations, shown on chair covers or whatever your heart desires! There's no wrong answer when it comes to adding print.

Dried Flowers
Dried flowers are a timeless way to incorporate florals into your wedding! Add pressed flowers to your cake, or display them in frames as décor! The options are endless.

Don't Forget the Arch
If you'd like an eye-catching arch for your ceremony/reception, tie in the floral theme here as well! Talk to your florist about ideas for adding flowers/greenery to your arch if you're having one!
The Bar
Cocktails & Signature Drinks
If you and your spouse are having signature drinks, think about keeping with the theme! Light and refreshing drinks scream warmer weather! Adding fruit to cocktails keeps them fresh and exciting for all of your guests.


All About the Dress
Add a Unique Touch
Trying to decide how to incorporate the springtime into your dress? Whether it's a statement piece of fun jewelry, embroidering flowers into your veil, or discreetly adding florals to your dress, there's so many options to choose from!


Wedding Party Attire
Play with Colors
Pastels and pops of color are perfect for the springtime; consider adding these into your wedding party attire! Gray and tan suits and floral print or solid pastel dresses create a beautiful color palette for your wedding. If you're having a ring bearer or flower girl, think about adding these ideas into their attire as well!


Dress Styles - Bring on the Sundresses!
There are so many options to choose from when it comes to dress styles. Light and airy sundresses are the perfect choice for a spring wedding. An idea that's becoming more and more popular with each passing month has been mix-matched dresses! Sticking with a certain color or theme, choose dresses that are different but compliment each other! This is a fun way to add different prints if you'd like, and bring more variety to your wedding!

~RR Wedding Team