Simple and Easy Ways to Increase Guest Comfort on Your Big Day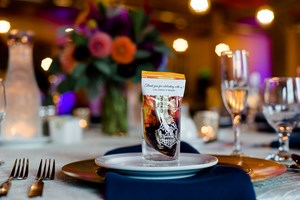 Your wedding day is supposed to be a fun and exciting day for not only you and your spouse, but all of your friends and family as well! Of course you want your guests to feel comfortable on your big day, so here are a few things to think about to make your day one to remember!
Take your seating arrangement into consideration.
• Be sure that all of your guests know and/or are comfortable with who's at their table! This can make the night much more enjoyable for all of your guests simply because they know the people they are with! If you decide to invite a guest who may not know many people at your wedding, allow them to bring a plus one and seat them with people who you feel will make them feel the most at ease!
Don't forget about the food!
• Having plenty of hors d'oeuvres during your cocktail hour gives your guests something to munch on while they mingle! We have plenty of options here at the Rail to make this decision the easiest it can be for you and your spouse. Some couples also decide to do a dessert or treat as their favor which can be put out during this time as well! A late night snack is also something to think about, your guests may be hungry after dancing the night away! We offer a variety of options, but we most commonly see couples choosing popcorn as a treat at the end of the night.
Consider the age of all of your guests!
• If you have elderly guests, consider possibly doing your introduction, first dance, cake cutting, etc. earlier in the evening so all of your guests are able to be a part of it! Elderly guests aren't as likely to stay later in the evening as some of your other guests, and this allows them to be able to be a part of some of the special events within your wedding even if they decide to leave early. On the other end, if you find that there are a handful of kiddos that make up your guest count, you can provide coloring pages, games, or anything you feel would appeal to them the best!
What will the weather hold?
• Some couples decide to have their ceremony off site and hold their reception here at the Rail. If this is something that interests you, consider what the weather will be like the day of your wedding if you're holding your ceremony outside! A few ideas include providing water bottles and fans if it's a humid day, or possibly even blankets for a chillier day!
Just by adding a few small touches to your wedding your guests can feel so much more comfortable! These thoughtful gestures will be remembered by your guests for years to come!
~RR Wedding Team