Our Predictions: 8 Wedding Trends in 2021
Posted on February 25, 2021 in Rails And Veils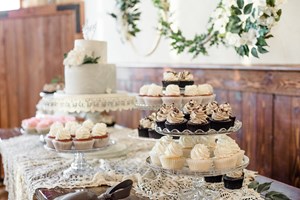 Wedding Trends are ever-changing, and there's no clear-cut path of determining what will be popular even a month down the road. However, we've put together a few trends we see making their way into the new year!

Micro-Weddings
Due to the current COVID-19 restrictions, many couples have had to downsize their weddings. While this has been a challenging time, it has brought a new outlook to guest counts. Many couples are downsizing their weddings for many reasons. Not only does this create a smaller, more intimate wedding, it also allows the couple to spend more money on each guest if they so choose. This includes a more extravagant meal, special desserts, personalized favors, etc. Most importantly, smaller weddings give couples the opportunity to spend more time with their closest friends and family and show their appreciation all day.

Cake+
After being a part of and planning a handful of weddings, we're starting to see the tradition of cake at a wedding slowly turning into a new tradition! A new idea that has become slowly more and more popular is unique wedding desserts! This doesn't just mean cupcakes and doughnuts, this could include ice cream, a cookie bar, macaroons, pastries, or an assortment of everything! This gives guests the chance to pick what they'd prefer, and everything else can be boxed up at the end of the night. If you do choose to stick to cake, (don't worry, cake will always be a good option) consider having a small one for you and your spouse alongside other desserts. This way you can still do the traditional cake cutting if you wish, but all your guests still have options. Sounds like a win-win to us!

Bold Wedding Dresses
Last year bold prints, colors and statement pieces made an appearance on the runway and in everyday life. There's no surprise that this trend is influencing this year's looks, especially when it comes to wedding dresses! Bold sleeves and intricate detailing catch the eye and create a jaw-dropping dress; and we're ready for it!

Color Scheme
Following from last year, we think (and hope!) that neutrals, earthy tones, and deep blues and mauves will remain on trend. Gold accents and simple decor to match these colors create a gorgeous color scheme for any wedding! White will also always be a classic and will forever be timeless.

Elope Now, Celebrate Later
Unfortunately, the current times have limited couples when it comes to weddings, and many couples are choosing to get married right away instead of waiting! Whether this be eloping or holding an intimate wedding with a few of the people closest to you and your soon-to-be-spouse, holding a celebration after the fact ensures you keep your wedding date but still get to celebrate with extended friends and family!

Yellow Gold
Let's be honest, any style of engagement or wedding band is gorgeous in its own unique way. However, yellow gold is making a huge comeback! This doesn't just include rings; this includes all other jewelry as well. However, no matter the style/material of your rings they'll be beautiful regardless!

Livestream!
Technology has advanced drastically in such a short period of time, and especially now! Many couples are choosing to livestream their weddings for guests who are not able to attend. This way everyone who wants can still be a part of your big day; the options are endless!

Non-Traditional Wedding Registry
As many couples are already living together before they're married, the traditional wedding registry isn't always practical. This varies for each couple of course, but even couples who are living separately prior to marriage are following some of these new trends as well! Instead of asking for basic household items, many couples are asking for money towards their honeymoon/getaway, donating for a charitable cause, or not even using a wedding registry all together! Talk to your partner to see which option suits the two of you the best; you can't go wrong!

~RR Wedding Team