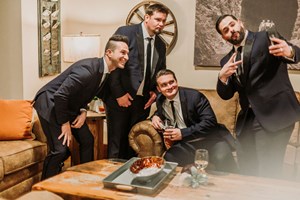 If you're looking for a venue that's convenient, easy and beautiful all in one, the Rusty Rail has you covered! Our unique and historic building offers the perfect space for the wedding of your dreams, and our team works to make it happen! Here's a few luxuries you'll receive when booking your wedding at our venue!
Getting Ready Space
Here at the Rail we provide a getting ready space for both you and your spouse to be! We have two spacious rooms that you will be able to spread out and relax in during the day.
Rehearsal & Rehearsal Dinner
We offer both rehearsal and rehearsal dinners here at the Rail; keeping with the one stop shop! We understand that not everyone may be able to make the rehearsal the night before. Accommodating our couples is something that we will always hold high on our list of priorities, and we'll do whatever it takes for your vision to come true.

Parking
Sometimes finding enough parking at a venue for all of your guests can be challenging. However, we have enough parking to accommodate all of your guests. If your guests are traveling and staying at a hotel. We have a vendor list with transportation options as well!
Tastings
Don't worry about having to blindly pick your wedding meal! We offer tastings here at the Rail so you know exactly what you're ordering for your big day! Group tastings are scheduled quarterly for your convenience.

Décor Provided
You have most of your décor but you seem to be missing something… check out our selection! We have a storage room full of fun and unique décor pieces that you can use on your wedding day free of cost!
Wedding Planner
Having extra help to steer you in the right direction throughout your planning process is a must! When you book our venue, our wedding planner will walk alongside of you throughout everything from the second you book, answering any questions and giving suggestions as needed.

Set Up & Tear Down
Your wedding day is meant to be enjoyed; this is a huge day! Our staff wants to ensure you have the best wedding experience. All set up and tear down services will be provided by our staff, along with packaging all of your décor and belongings! Don't worry though, we will be sure to do the set-up exactly to your liking with your approval so you can relax and enjoy the morning of.

The Diamond Suite
Our diamond suite isn't named "diamond" for nothing; it's a gem! You can relax by the fireplace or in the jacuzzi tub and unwind. Please check for availability!

Lodging & Suites
Alongside our diamond suite, we have more suites for guests to stay in the night prior to the wedding and the night of! All suites will be offered to wedding guests. This is especially helpful when traveling!
Photo Locations
Due to our historic building, the Rusty Rail has countless breathtaking spaces for wedding photos. From photos in our brewery to outside, there's a space for everyone to create the perfect shot!

~RR Wedding Team