Posted on December 01, 2018 in Rails And Veils
Old & New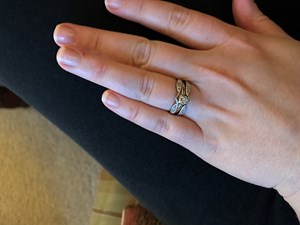 Thanks for sharing your story with us!!
In many families there are items that have been passed down from generation to generation. As members of the family grow and become adults, begin relationships and build families the elders hope that the traditions continue and will last a lifetime. We all know the saying for weddings "something old, new, borrowed, and blue" and how each item is to symbolize the couple's future together. What if your something old and new was the same thing? What if when joining a family with your special someone, a tradition was passed down not only to them but to you as well. That ring that you now wear on your finger and brings a smile to your face did the same thing for someone else. They felt the same way you are feeling during the planning stages of your wedding.
Our couple getting married here at the Rusty Rail in 2020 is honored to have a family tradition passed on to them. The engagement ring was worn by the groom's grandmother. He was given the ring; however he made a few changes. The ring still beautiful as the original now has a new look unique to his bride. Traditions are special and we are thrilled to be a part of this couples special day!
~RR Wedding Team