It's about the Love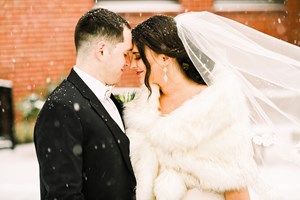 Photo by - Lindsey Maree Photography
"Before something great happens, everything falls apart"
Our team will be out of the office due to the closure of the Rusty Rail until March 30, 2020.
With the world continuing to spin and life changing, we all must remember to be strong. A wedding day is about the love that the bride and groom have for each other. It is a commitment through thick and then - no matter what life brings. The couple in this weeks blog photo had challenges arise both the week and day of the wedding. It snowed, guests were unable to make it to their wedding and the Rusty Rail brewpub was closed early due to the storm; ending the chances of an after party. Through all of this however, the couple focused on each other and the love. Their wedding day was still perfect in every way!!!