Incorporating Social Media into Your Big Day
Posted on November 05, 2020 in Rails And Veils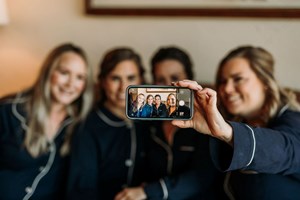 Over the years social media has grown tremendously, and has become a huge part of every day life. This being said, there are tons of ways to use social media overall, and when it comes to weddings the options are endless! Here's a few of our favorite tips to perfect your social media usage before and on your big day.
Create a wedding #hashtag!!
• This is a fun way for all of your guests to share their photos from your wedding and creates an easy way for you to view the posts. This also gives you and your soon-to-be-spouse a chance to show your personalities and give all your guests a laugh, if you choose to! Use this hashtag on all of your wedding posts, encourage all guests to use it, display it somewhere on your wedding day, or do all three!
Find inspiration for your big day
• Take advantage of websites and social media. Sites like Pinterest and The Knot can be a huge help in choosing a theme, browsing dress styles, décor; you name it! Use these sites to gain inspiration for your special day. You may even come across something that's perfect for your wedding day that you never even thought of before!
Choosing the perfect vendors
• With just a few clicks you can easily have a whole list of vendors at your fingertips! Use this to choose the ones you feel fit your style, personality and budget. Many photographers, videographers, florists, bakeries and DJ's have their work displayed on a website or a social media account for easy access. Use this to your advantage!
Unplugged or Not?
• A popular idea for weddings is the decision to go unplugged. Having an "unplugged" ceremony/wedding is when the couple getting married asks all guests to turn off cell phones and cameras. Whatever the reason may be, if this is a route you decide to take be sure all your guests are aware the day of! Many couples are displaying this decision in fun ways such as using a sign and playing with the wording! This topic is something we've recently discussed in one of our blogs, and if this is something interests you head over to that blog to read all about it!
Create a Wedding Website
• Wedding Websites are becoming more and more popular with time! This is a fun way to inform guests of all details and create your page around your wedding theme. By creating your own wedding website you can upload details about your wedding such as the timeline, events everyone's invited to before or after your wedding and your registry. Digital RSVP's are becoming more popular as well, and is an option to consider! Including highlights of your planning process, a few sentences about your wedding party, pictures and fun details to your page are a few ways to keep all guests in the loop and get them excited about your big day!
A few things to avoid…
• Stop the comparison game! Everyone's planning process is different, and no one talks about the struggles! Remember that there's a story behind every picture you're coming across, and its okay if yours is different. Follow your heart with this process; it's an exciting time that you don't want to miss! If there's something you find you're struggling with, throw it at us! We're here to make this special time as memorable as can be.
There is no right or wrong way when it comes to choosing how you'd like to incorporate social media on your wedding day. Use as much or as little as you'd like, and get excited about it!
~RR Wedding Team