Posted on February 03, 2018 in Rails And Veils
I Saw her First!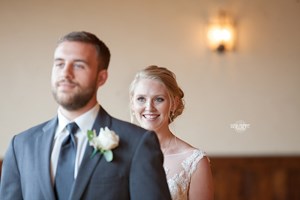 Photo captured by Sarah Mumper Photography
The day of your wedding is going to be one of the most memorable days for you as a couple. While your photographer is capturing this day there are a lot of photos that you may want. One popular photo right now is the "first look." This is an intimate moment between the couple prior to the wedding. You get to see each other before walking down the aisle and have a moment together before everything. The photos capturing this moment are so genuine and show the true love the couple has for each other. Is this photo going to be on top of your list for your wedding? Tell us your thoughts about seeing your love prior to walking down the aisle!
~RR Wedding Team