Posted on December 20, 2019 in Rails And Veils
Groom's Agenda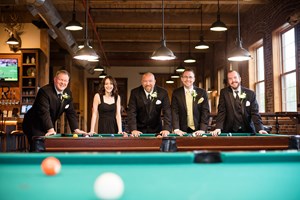 The morning of your wedding everyone knows what is on the agenda for the bride and her bridal party – hair & make-up / getting ready for her special day!
What about the groom, what will he be doing with the groomsmen? The getting ready process doesn't begin at 8 AM like the bride. It only takes the guys – what an hour to get ready? While there is time for them to relax the morning of, the last thing that anyone wants is the drinking to begin at 8 AM. So why not have the guys go to the local barber for a haircut and maybe get a clean shave before the wedding. They could also hit the golf course for a short round of golf (weather permitting). The group could all do lunch, or if the couple is getting married here at the Rusty Rail the guys can hang out in our Game Room; order food / have a beer and play pool before it is time for get dressed for pictures.
Regardless of where or when your wedding is – you want to make sure that the groom, groomsmen and even father have an agenda for the day.
~RR Wedding Team