Don't be afraid to ASK!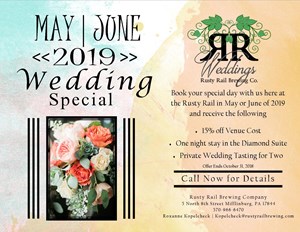 Discounts: We all know what they are and like them! Don't think that when planning your special day you can't find discounts and other savings available to you! When booking your vendors for your wedding, ask if they offer a discount or a savings. A lot of times vendors have package deals to offer if you ask!! Any deal is a good deal and can save you money in the end to put towards something that you didn't think was an option.
Currently, the Rusty Rail Brewing Company is offering a special to couples who book their Wedding with us in May or June of 2019. If you are engaged and thinking about getting married in spring 2019 this offer is just what you need! Contact us today for more details!!
~RR Wedding Team