Creating Your Wedding Registry
Posted on December 01, 2020 in Rails And Veils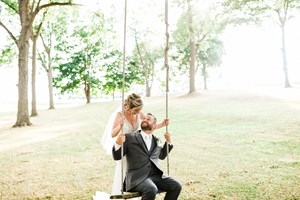 Your wedding day is approaching quickly and you're ready to create your wedding registry. This is an exciting time and the perfect opportunity to choose gifts that suit you and your spouse! Here are a few things to consider before diving into creating your registry!
Create a registry that is unique to you
Don't create your registry based on what gifts you think you should add! Some traditional registry gifts may not be a match for you and your spouse. Consider your likes and hobbies, and include these in your registry. If you enjoy cooking, include some special items for your kitchen. If you enjoy spending time outdoors, include a tent or supplies for gardening! There is no right or wrong answers when it comes to choosing what goes on your registry.
Think ahead!
Do consider items that you may need in the future, even if you don't think you need them right now. That china may not seem like a necessity at the current moment, but down the road you may need it for family dinners!
Talk to your spouse
Be sure to include your spouse in this process. After all, these gifts are going to the two of you! Talk over what you both would like to include on your registry, and what you don't want to include.
Create a list of necessities/wants
By creating a list of what you absolutely need versus what may just be a luxury, you can narrow down what is the most important to you! However, it's suggested to have more options on your registry than your guest count, so if there's two items you just can't seem to choose between it's not wrong to add them both!
Where to register
Choosing where to register is just as important as choosing the items for on your registry! Many different stores offer different advantages. Take these into consideration:
Choose more than one store!
Create a registry at more than just one store! However, don't go too overboard with this. Registering at 3-5 different places gives your guests options to choose what's most convenient for them!
Research perks and discounts
Each store will offer different perks and discounts if you register through them. Be sure to know your benefits before registering! Some stores will offer discounts for purchases while your registry is active, or a discount on any item on your registry that was not purchased. For your guests' convenience, look for stores that will also ship to any location/address to save them the hassle of picking it up!
Choose at least one large company
There are plenty of large-branched businesses that offer items from sister stores. Consider adding at least one of these to your registry list! This gives you and your spouse plenty of options to choose from, and creates an easier time for your guests!
How to spread the word
Proper etiquette would suggest to not adding your registry to your invitations… so how do you tell people about your registry? If you are creating a wedding website, this is the perfect place to add your registry! If one of your bridesmaids or family members is holding/creating your bridal shower/ bridal shower invitations, this is also a place to mention/add your registry. Another way is simply by word of mouth!
A few helpful tips…
Take your time!
Don't rush this process. If you rush creating your registry you could possibly regret some of the items you added! Be sure to thoroughly think through each item, and pick a few items that have more than one use! Your future self will thank you later!
Complete your registry early
Here at the Rail, we recommend starting your gift registries at ten months out. This ensures you and your spouse have plenty of time to compile a list of everything you may need! At five months out, update your registry and post it to your wedding website (if you have one)! This also gives guests enough time to pick out your gift.
Give your guests plenty of options
Give your guests plenty of options to choose from! Include more gifts on your registry than your number of guests, and be sure to have gifts with different price points. Guests will want to choose a gift that they want to give you, so by offering plenty of items this ensures each guest will be able to find the perfect gift!
Send out your thank-you cards as soon as possible!
Send out your thank you cards as soon as possible to avoid forgetting about them, but don't send out your thank you's any later than 3 months after your wedding! However, don't just simply send out a text! Sending a letter/note to all of your guests shows you truly appreciated them attending your wedding and giving a gift. Guests want you know they're appreciated!
There is no right or wrong way to create a registry and each registry will look different for each couple! Have fun with this process, and enjoy this time before your big day!
~RR Wedding Team