Common Wedding Questions Answered
Posted on November 12, 2020 in Rails And Veils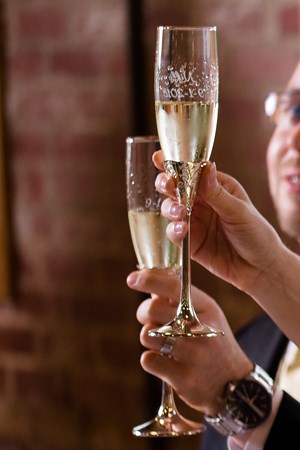 Have you ever found yourself asking a simple question about your wedding but never being able to find the answer? We've compiled a list a commonly asked questions to take the weight off your shoulders!
Should I feed my vendors?
• Yes! Your vendors are usually with you all day and should be offered a meal. Be sure to check their contracts first and touch base with them about dietary restrictions and if they require a meal before sending meal counts to your planner!
How do I plan my budget?
• First off, consider who all is pitching in to help pay for the wedding. Are you and your spouse covering the wedding, or are parents and/or family jumping in as well? From here you can determine how much you money you have to work with! Consider the cost of your venue, food and bar as these usually take the biggest piece out of your budget. Add in attire (such as dresses, tuxes and accessories), rentals, decorations, favors, vendors and any extras such as gifts for your wedding party, spouse, and/or family!
Who should I ask to make the toast at my wedding?
• Traditionally toasts are given in the order of the best man, maid/matron of honor, the father of the bride/groom, sometimes the mother of the bride/groom and possibly even you and your spouse. However, this is completely your choice and there's no right or wrong way in deciding who should give a toast. Just be sure to have a list of everyone who is giving a toast or a short speech before the reception to avoid any conflict!
What time can my bridal party and I come to the Rail to get ready, and should we all arrive at the same time or different times?
• Whenever you want to! We can discuss timeline throughout your planning process, and work it out so that everything goes just as you'd like. We're very flexible and here to serve you the best we can! As for arrival times, yes! We recommend your bridal party and you arrive at the same time. This avoids conflict the morning of and gives all of you time to spend together!
When will the bride and groom, bridal party and family pictures be taken?
• Typically here at the Rail we do pictures during cocktail hour. However, this can vary by couple and photographer. If you're holding a later ceremony and decided to do a first look with your spouse, pictures can be done before the wedding. If you and your spouse have decided you don't want to do a first look and are holding an earlier ceremony, pictures can be taken during cocktail hour. If you'd like to be a part of mingling with your guests during this time, this is something we can easily work into your timeline. However, your photographer knows best! Be sure to be in touch with them and get their opinion.
What happens if a guest shows up late to the wedding?
• We normally suggest that if a guest comes in late they wait in the Pardee Room until your ceremony is over, however our team can bring them through our side entrance to not cause a distraction.
Who do I give a plus one to?
• This is a tricky decision that can easily be determined by your budget and venue size. Each extra guest you add to your guest list will equal out to being more money, however don't be so quick to cut your list! Common etiquette would suggest that any guest who will not know any other guests at your wedding gets a plus one and anyone married/engaged/in a serious relationship gets a plus one. By offering a plus one to your wedding party as well can show how thankful you are that they're a part of your big day; although, they may still decline anyway.
Are the Rusty Rail suites available for our guests to stay in? What if we need more room?
• Absolutely! We prioritize your guests the night of the wedding, meaning we'll book to you before anyone else! If you would happen to need more room, which is very common, we also do hotel room blocks for hotels around the area. This happens 11 months out in your planning process, and we're here to help discuss how many rooms you'll need and take care of the blocks for you so they're off your shoulders!
In an overview, there are so many questions that come up at every step of your planning process. Never hesitate to reach out; we're excited to answer every question you may have!
~RR Wedding Team