Choosing Your Wedding Party 101 ​
Posted on September 08, 2021 in Rails And Veils
One of the most exciting and personal parts of your engagement/ wedding planning process is choosing who will stand by you on your big day. Not everyone chooses to have a wedding party, but if you and your spouse decide to, here are some tips on choosing your wedding party and some wedding party roles and responsibilities for the people closest to you!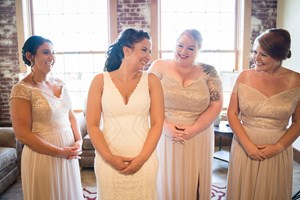 Wedding Party - Who to Choose?
Maid/Matron of Honor
The maid/matron of honor holds the highest honor on the bride's side of the party. Typically, this position is filled by a sister or best friend. On occasion we see brides choosing their mothers, stepmothers or another person in their life that has been a mentor to them throughout their life.
Bridesmaids
The bridesmaids are usually close friends or relatives of the bride. When choosing the rest of your wedding party, think of who will support you, be willing to help when you need it and have been a big part of your life up to this point!
Best Man
Much like the maid/matron of honor, the best man holds the highest honor on the groom's side. This position is typically filled by a brother or best friend. Grooms can also choose to ask a mentor to be their best man, whether that's a father, stepfather or other mentor.
Groomsmen
Groomsmen are close friends or relatives of the groom. Think about who has been by your side throughout your life and who you'd like to share this special day with you.
Flower Girl
By having a flower girl (or two), you can incorporate a young girl that's important in your life into your big day! If you're not fond of the flower girl idea but still want to involve someone, think of other ways to include her in your day!
Ring Bearer
Just like the flower girl, having a ring bearer can be a great way to show a young boy in your life honor in your wedding!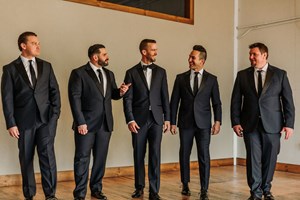 Tips for Choosing your Wedding Party
Take a Moment to Think
You're freshly engaged, and you want to jump right into choosing your wedding party - we get it, it's super exciting! However, take a second (if time allows) to consider who you ask before asking. Will you still be close with this person in 5-10 years? Are they someone you respect, trust and love to be around? Will this person be able to afford the costs of being a part of your wedding party? These are the people who will be helping you along every step of the way with your planning - choose those who will be willing to jump right in to make your day as perfect as can be!
Consider the Role
Think about what role you would like your wedding party to play in the moments leading up to your big day. If you want them thoroughly involved, think of those who will have the time to do so. If this isn't on the top of your priority list, asking those who have busy schedules or live farther away will be honored to be asked and be involved in the important things!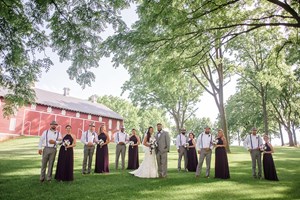 Consider Wedding Size & Expectations
Do think about the size of your wedding and how many people will be attending! The typical role of thumb is if you're planning a smaller wedding, you'd have a smaller wedding party and vice versa. However, this isn't always the case! Choose who you feel closest to, regardless of size. Consider the details of each size for your wedding party. More can lead to more details to keep straight and more expense on your end, but fewer may mean those who are involved will have to pitch in a little extra cash to cover any events or items they may be paying for, for you! It's really based on what your wedding plans are and who you're closest to!
Think About the Cost
Having a larger wedding party can be expensive. Wedding party proposal boxes (if you choose to do them) can add up depending on what you add! Consider thank-you gifts for each member of your party, who's paying for attire, food costs the morning of, transportation details, etc.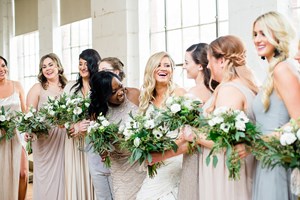 In Conclusion
There is no right or wrong way of choosing your wedding party! Pick those closest to you and don't worry about following the "rules". This is your big day and the people that are with you make it so special.
~RR Wedding Team
Photography: Emily Kane Photography, Sparkx Entertainment, Dear Grace Photography & Antiquity Photography