Choosing Your Perfect Wedding Color Palette
Posted on September 30, 2021 in Rails And Veils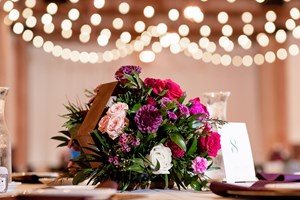 Choosing a color palette for your wedding is the first step when choosing what style you'd like your wedding to be. Your color scheme sets the tone for the rest of your wedding and is a crucial part in the planning process! Here's a few of our best tips for choosing what colors to pick for your big day.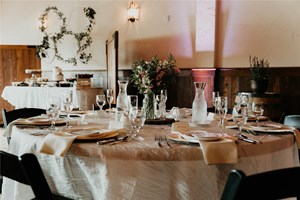 Consider Your Color Palette
Keep in mind the colors that you're naturally drawn to. This includes the decorations/ colors in your house, the colors in your wardrobe, etc. These are colors you already love, so consider incorporating them in your wedding day as well!
Keep Your Venue in Mind
Your venue can have an impact on your color scheme as well! When choosing your venue be sure to pick somewhere that matches the colors you're naturally drawn to. If you've already picked your venue, consider what colors it already is made up of and think about your color scheme with the venue's. The last thing you want is for your wedding colors to clash with any colors the venue you chose or are choosing! If you're 100% sure on your colors already, choose a venue that compliments them or has a neutral palette to start.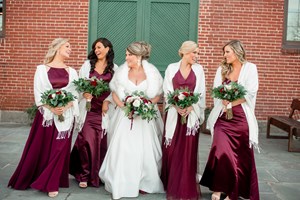 Keep Your Must Haves a Priority
If there's anything that is an absolute must for your wedding, make that the starting point before doing anything else! If you have a sentimental item you'd like to use in your wedding or having a certain kind of flower is a priority for you, put those at the top of your list to work around. It's much easier to base your color scheme or theme around these items rather than trying to incorporate them in later.
Think About the Time of Year
While the season your wedding day is in doesn't have to be the deciding factor for your color scheme, don't be opposed to letting it influence the vibe of your day! If you're having a spring wedding, think of fun, bright colors mixed with some neutrals to make them pop. If you're thinking of having a fall wedding, consider deep, rich tones. However, there's no right or wrong answer and any color scheme can look gorgeous with any season. Choose what suits you and your partner the best!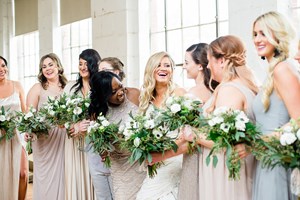 Considering Choosing Common Colors
We don't mean you have to pick all neutrals or white for your wedding day colors but do consider using at least one to two neutral colors! When choosing your color scheme, pick one or two bright, bold colors (statement colors if you will - these are the main colors in your scheme) and even it out with some neutrals or softer complimentary colors. This will help tie your theme together while keeping it from becoming overpowering!
Think Color Wheel
Going back to elementary art, the color wheel does serve a purpose! This can be a great way to figure out what colors complement each other and can make picking your wedding colors that much easier.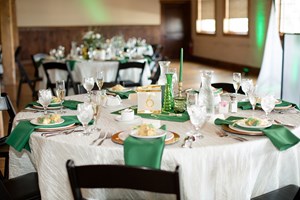 Don't Be Afraid to Step Outside the Box
Think about you and your partner's personalities and consider picking a color scheme that aligns! If you like the look of the traditional, white classic wedding but it doesn't really feel like you, don't be afraid to step outside the box! Play with bright colors, bolder decorations, and unique combinations. This is your wedding day, and you get to choose what you love!
Don't Choose Trends Simply Because They're Trends
We all know the current wedding color trends, and they're gorgeous. However, don't pick your colors solely based on the wedding trends this month. Trends will always come and go, so choosing what you love ensures your wedding day will be timeless and something that you will always look back on and love!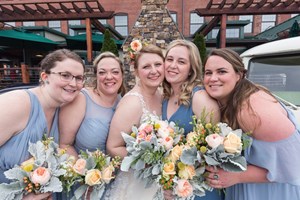 If Choosing a Scheme Isn't Your Thing...
At the end of the day, if you're still struggling to choose a color palette don't worry! Color choices are likely to change throughout your planning process. It's also completely okay to not have a color palette - choose a theme instead! If you're using wildflowers, stick with a boho theme and base everything around that - it will all still blend and work together wonderfully! Same goes for a minimalist theme - choose neutrals and simple décor items to tie everything together beautifully. Whatever theme you choose, the color palette will all work out along with it.
Photography: Antiquity Photography, Tales & Trees Photography, Sarah Mumper Photography & Kevin Mooney
~RR Wedding Team