Breaking It Down: All About Your Wedding Timeline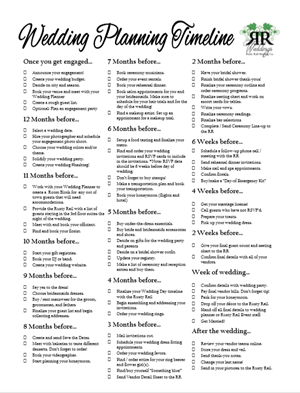 It's finally here… you're engaged! But where do you start? If you're struggling to find a starting point and need some direction, we've got you covered! Here's everything you need to know about your planning process and your wedding timeline.
Why Follow a Timeline?
You may be asking yourself, what's so important about a timeline? A timeline is the backbone of your wedding planning and will serve as a guide throughout the whole process. Organization is key when it comes to planning a wedding, and dates are extremely important! This will help keep you on track all the way from the small details to the big details!
Our Timeline!
Our Wedding Planning Timeline can be found on our Rusty Rail Weddings website page and is free to use! It was created by our team from years of experience with your convenience in mind. When booking with us, we will implement our timeline into your planning process and send you monthly emails to keep you on track!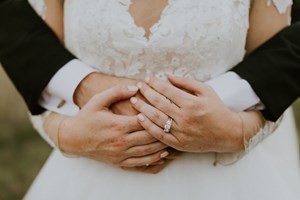 Staying Organized
Whether you love to color coordinate everything and bedazzle your files or that's really not your cup of tea, here's a few tips to help anyone stay organized throughout their engagement!
Utilize a Binder / Calendar / Email
Creating a wedding planning binder to keep all notes, files and information in keeps it all in one place and easy to access! Keep a calendar in your binder with any important dates such as meetings, appointments with your vendors, or bridal shower/party dates. If paper isn't really your thing and you don't want to drag a binder around, all of this can also be done online!

If you're worried about not being able to keep everything relating to your wedding in one place, this is something to strongly consider! Create a separate email for your wedding only and use this for all your vendors and other details. Creating a Gmail account is free, and you can also utilize the calendar and Google Drive on this account to keep everything separate from your own personal calendar.

Checklists
Checklists are a HUGE help when it comes to planning anything, especially your wedding! Have fun with this or keep it simple, whatever makes you excited to use it! Think of unique ways to incorporate a checklist if a standard checklist isn't your thing.

Ask for Help
Don't try to be a superhero and save the day. Believe it or not, there's a ton that goes into wedding planning and there's nothing wrong with asking for help! Assign tasks to different family members, friends, or your wedding party to take them off your plate. Your future self will thank you!

Dedicate Time for Your Planning
As we all know, life gets crazy and that's totally okay! Be sure to set aside time with your spouse to talk wedding plans. You don't want this time spilling into date night or a chill day; these times are super important too, you know.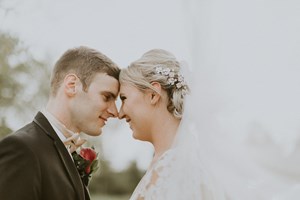 Q&A's
(Questions and Answers)

Q: I'm having a small, intimate wedding on the casual side. Do I still need to follow a timeline?
A: 100% yes! Even if you're only planning a small wedding, still follow a timeline. While not every step will apply to you, keeping on track with the important details is a must!
Q: When do you suggest I start the planning process?
A: Our Wedding Timeline starts at 12 months out from your wedding, so anywhere from 12-14 months of planning time is ideal.
Q: I'm planning a short engagement/ missed the first few months of my planning and feel like I'm playing catch up - how can I make this easier on myself?
A: Whether you're planning a shorter engagement, or something came up that set you behind, it's not the end of the world! While this will be more work in the beginning, the easiest thing to do is catch up to where you are at currently in your planning. For example, if you have 8 months until your wedding day complete everything leading up to where you are and so forth with any other date. This will keep you on track throughout the rest of your engagement and you're sure to not miss any important steps. During this crunch time, ask for help from family and friends and your wedding planner. We're here to assist you through every step!
Q: My soon to be spouse and I are planning a long engagement; can I start any of the planning earlier than a year?
A: Absolutely yes! Just because our timeline is for a year out doesn't mean you can't start planning early. Some vendors are booked out for more than a year, so be sure to narrow down your ideal list and reach out. By stretching out your timeline you'll have less to do and more free time to decide what you love! However, for some tasks it's important they are done when suggested. Things like mailing your invitations or finalizing your meal plan should be done later in your planning process, and for a good reason too!
In conclusion,
There are so many exciting things when it comes to wedding planning and so many directions to go! Make the most of this process and take it all in, it's easy to miss the small details and forget about who made it happen, or how it all came together. Live in the moment and enjoy this milestone!

~RR Wedding Team