Best Wedding Gifts for Parents to Say Thank You
Your wedding day is a big day that brings two families together, and chances are a lot of time, money and energy has been put into your wedding by your parents and soon-to-be-in-laws! This raises the question; how do I say thank you? Here is a few of our favorite thank you gifts as well as everything along with it!
How Much Should I Spend?
When it comes to getting thank you gifts for the parents, it is not about how much money you spend but about the thought behind the gift. This will vary based on each family and situation but focus more on what value and meaning is behind the gift and not so much on the price tag. In other words, do not feel obligated to get your parents an expensive gift if it's not within budget, or on the flip side, don't feel like there's a gift that's too extravagant! This is all based on you and your spouse's preference and what you'd like to do.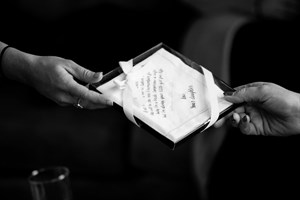 When Do I Give My Parents/In-Laws Their Gifts?
Gift giving also poses the question: when? In all honesty, there is no wrong answer! Do whatever you feel right, however here are a few things to keep in mind when deciding when you give your parents/in-laws their thank you gifts:
The Night Before
If you and your spouse would like to give your parents their gifts together, this is one option to consider! Whether you decide to present them at rehearsal dinner with your close friends and family or do this before or after for a more intimate moment, you really can't go wrong!

The Day Of
Giving your gifts to your parents the day of is another perfect option. However, you and your spouse are going the traditional route you will have to weigh if you would like to give your gifts separately or together since you won't be seeing each other the morning of. If you are doing a first look though, this decision isn't as important to the both of you!
The Day After
Finally, giving your gifts the day after your wedding is another opportunity to have one-on-one time with your parents and include your spouse if this is something you'd like to do together! Keep in mind, depending on your honeymoon plans this may not be the best option.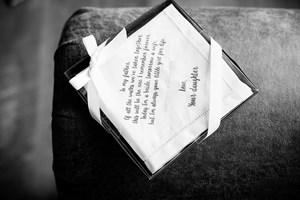 A Few of Our Favorites…
Here's a few of our favorite parent thank you gifts:
Subscriptions
Any kind of subscription will be sure to be a hit and truly is the gift that keeps on giving. Choose whatever time frame you'd like through whatever company suits your parents the best to give them a new surprise every month!
Personalized Items/Attire
Handkerchiefs, jewelry, personalized cufflinks/a tie, blankets, mugs, a serving tray/cutting board, you name it! The options are truly endless here.

Quote/Picture
A framed quote that means a lot to all of you or a framed picture is the perfect way to give something that is meaningful and that they can hold onto for years to come.

Digital Picture Frames
If you'd like to give a gift that holds the value of a special photo but don't want to do a standard photo in a frame, consider looking into digital picture frames! Any photos of your choice can be uploaded to this frame and will flip through all your pictures to display more than one, and this way you can always add new or take out the old. Some frames display videos as well, get creative with this one!

Necessities/Wants
Want to get your parents something they've been needing or wanting but won't buy for themselves? This is the perfect opportunity to choose a gift based on your price range and can be easily changed to suit the recipient! Whether this be a new Keurig, Apple TV, or that set of flatware they've always been wanting, you really can't go wrong!

~RR Wedding Team
Photography: Lindsey Maree Photography & Antiquity Photography