Posted on September 16, 2020 in Rails And Veils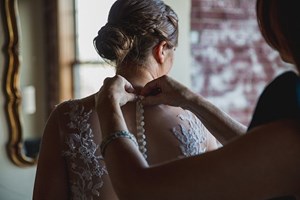 What does the "behind the scenes" of a wedding really look like? What does our team really do? If you were ever curious of what a wedding planner does, here are a few things we do to make your day as special as can be!
In a nutshell, wedding planning starts a year out. We use our monthly details sheet to ensure our couples stay on pace throughout the whole planning process. This can be anything from picking out a dress to sending out invitations! After a few months into the planning process we start planning the day-of timeline. This helps set the pace for our couple's big day and helps avoid any unwanted problems that pop up. Our team also reaches out to vendors and keeps in touch with them so our couples don't have to! One last and very important thing, we offer as much advice as we can. Our team is always here to answer questions, concerns, or offer advice about anything!
Being a Wedding Planner can be challenging, but is exciting and beyond rewarding. Our goal is to take as much stress off of our couples as possible so they can enjoy a very special day in their lives. Our whole team is passionate about bringing our couple's dream wedding to life, and will do whatever it takes to make it happen!
~RR Wedding Team