7 Unique Wedding Ideas for Your Big Day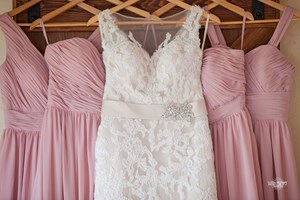 You're in the midst of planning your dream wedding but it all seems too… familiar. You want something unique, but where do you start? Here's a few of our favorite ways to make your wedding unique and memorable to not only you and your soon-to-be spouse, but everyone else as well!
Personalized Champagne Glasses
If you'd like to have a champagne toast at your wedding but you're struggling with it feeling too "bland", personalize you and your partner's champagne glasses! Whether this be a word or even your names, get creative with this! The options are endless, and they make for great photo props - bonus!
Bridesmaids Dresses
A recent trend that has been taking the wedding world over by storm are mixed-matched dresses. Pick out dresses for your bridesmaids that are unique to them, but also blend when all together! This draws the eye to all the different colors and patterns while keeping you at the center point. Plus, this way you're able to incorporate more than one color if you'd like!
Write Your Own Vows
Writing your own vows was something we previously talked about in one of our older blog posts, but it's still just as relevant. This idea will always be timeless and is the perfect way to add so much more to a wedding. If reading your personalized vows during your ceremony in front of your guests isn't your cup of tea, do them in private before or after the ceremony! This gives you both some time alone and allows you to share a more intimate moment alone without any pressure.
Personalized Table Numbers / Name Your Table
Instead of pushing your table numbers to the backburner, incorporate them into your table decor! Your numbers don't always have to be on just a blank white sheet of paper, but if that's your style go for it! Including them in floral arrangements or putting them on signs to match the rest of your decor can tie your table all together and create the perfect balance for all of your decor. If you'd like to take it a step further, consider naming your tables instead of using numbers! If you and your spouse have important places that mean a lot to the both of you, name your tables after them. If you have a theme, name your tables after something in your theme! Get creative with this, you truly can do whatever your heart desires!
Guest "Book"
A guestbook doesn't always have to be just a book. Tie your wedding theme into your guestbook or use something completely different! From signing globes and vinyl to even making a quilt out of your guests' signatures and notes, you can't go wrong with any option. Do think about what your plan is with your guestbook post wedding; these unique options will ensure you can display your guestbook in your home and not somewhere in storage.
Notes, but on the Shoes?
We've all heard of writing notes to your partner to read before the wedding, and we're all for it. However, put a unique spin on the traditional note and write it on your partners shoes instead! This way it's with them all day long and can be kept as a keepsake for years to come. While this is a fun idea, we'd recommend writing your note on paper as well just in case it would smudge throughout the day. If you're not fond of writing on the bottom of your shoes, another idea is engraving the inside of a belt or embroidering a handkerchief with a special message for your soon-to-be-spouse.
Late Night Snacks
Let's be real, who doesn't get the munchies? Consider serving your guests a late-night snack after dinner is served! Here at the Rail we offer popcorn as a late-night snack, but always ask about upgrades if this is something you're intersted in!
~RR Wedding Team