15 Unforgettable Wedding Send-Offs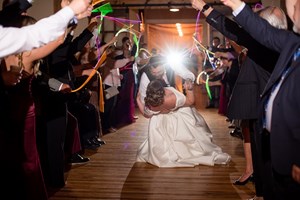 Looking for a unique way to make your exit an unforgettable experience? Or do you love the idea of a send-off but can't decide what to do? Don't worry - here are some of our favorite wedding send-off ideas that will wow your whole crowd!
Sparkler Exit
One of the best-known exits (for a good reason) is a sparkler send off! Not only are these such a fun experience for not only the couple but also everyone involved, sparklers are such a great photo prop! One note to keep in mind - consider buying 20 - 36-inch sparklers for your send-off. These sparklers burn much longer, lasting 2-4 minutes. This gives your crew enough time to light everyone's sparklers and for your photographer to get the perfect shot!
Glow Sticks
This inexpensive send-off idea will have your guests speechless! No, glow sticks aren't always just meant for the kiddos! With all the vibrant colors glow sticks have to offer, they can transform your experience and photos into a whole new level! This is the perfect way to involve all your guests in your exit while keeping the mess to a minimum!
Toss Petals
Tossing petals is such a pretty way to end your wedding! Seriously, how magical would a photo of you and your spouse be with petals surrounding you? We can't think of a better idea!

Toss Flowers
Sure, everyone knows that tossing flower petals is a gorgeous send-off idea, but have you considered tossing whole flowers instead? Keep in mind - you don't have to limit yourself to just roses if you don't want to! Think outside the box and incorporate the other flowers you have in your wedding as well. Whether you choose to toss real or fake flowers, this is the perfect way to have a beautiful send-off!

Toss Greens
Just like petals and flowers, greens are another perfect option if you'd like your guests to toss something! Using whole stems or just leaves, you really can't go wrong with any kind of greens.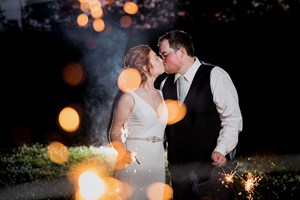 Blow Bubbles
Another send-off that's a classic is blowing bubbles! Filling small containers of bubbles for each guest creates such a magical photo and an amazing moment with your spouse! Let's be real, we all still have a little bit of our inner child that would love doing this send-off!

Use Streamers
Another mess-free but adorable send-off are hand-held streamers! This exit idea is the perfect way to bring smiles to all your guests faces and creates such a fun path to walk through! Have fun with your colors and incorporate your wedding color palette.

Floating Lanterns
Envisioning a "Tangled" dream wedding? Lighting floating lanterns and releasing them is such a perfect way to end your night and is sure to give guests an experience they won't forget! Write notes on your lanterns before releasing them or make a wish! Just imagine these photos! Be sure to check if your state and venue allows this beforehand and consider biodegradable lanterns as well.

Ribbon Wands
While ribbon wands are very similar to using streamers, ribbon can add such a delicate touch to your send-off!
Toss/ Release Balloons
Tossing around balloons during your send-off is an adorable way to add some color and have a laugh with all your guests. Similar to floating lanterns, releasing balloons can be an amazing experience, but just be sure this is allowed before moving forwar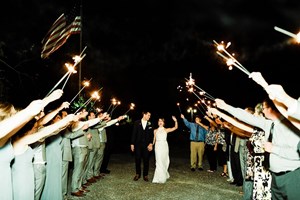 Toss Rice
A classic and traditional send-off that will always be "in" is rice! This cheap alternative to any other send-off idea is the perfect way to have a fun yet beautiful send off. We don't see this one going out of style any time soon!

Use Bells
Bells can be such a fun experience when used for an exit and have so many different possibilities! There are so many kinds of bells; play this to your advantage! Having a winter wedding? Sleigh bells/jingle bells can be the perfect way to incorporate your theme into your send-off! Get creative with this idea but keep the noise it will create in mind!
Wave Flags
A fun and simple way to have a perfect wedding exit is by waving flags! Involve your guests in the reception by creating their own flags or involve the kiddos at your wedding by having them decorate the flags as well!

Toss Confetti
Tossing confetti is an amazing way to add a little bit of sparkle to your exit. There are so many kinds of confetti made that you'll be sure to find some that match your wedding theme!

Light the Way
Not really interested in any of these ideas and looking for something a little simpler? Consider using floating candles, vases, lanterns, or any other kind of light to line your pathway to your exit! This is such a beautiful photo opportunity that allows guests to be in the moment throughout the whole send-off.

~RR Wedding Team
Photography Antiquity Photography, Emily Kane Photography and Lindsey Maree Photography