Menus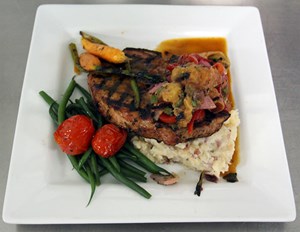 Our brewpub offers an eclectic mix of scratch-made, American bistro pub fare and inspired cuisine from our head chef.
Starting March 1, 2017, we are featuring new items on our brewpub menu. Check out our new menu items and start planning your next visit!
Every week, we also feature unique appetizers, soups, salads, entrees and desserts on our Specials Menu.
Pub Menus
Our full Pub Menu and Kid's Menu are available for lunch and dinner on our first floor.
Game Room Menu
Our Game Room Menu is available in our upstairs Game Room starting at 4 p.m. on Thursdays.
Express Fare Menu
Our Express Fare Menu is available for lunch Monday-Friday from 11 a.m. to 3 p.m.
Brunch Menu
Join us every Sunday from 11 a.m. to 2 p.m. for our exclusive Brunch Menu! After brunch ends, our Hotshot Menu is available from 2 to 3 p.m. as our kitchen transitions. After 3 p.m., our full Pub Menu is available.