Direct from the Mississippi Hill Country:
Cedric Burnside Project
March 09, 2018
9:00 PM
Location:
Rusty Rail Brewing Company
5 N. Eighth St.
Mifflinburg, PA 17844
TICKETS
Reserved Seating - $23
General Admission - $20
Day of Walk Up - $25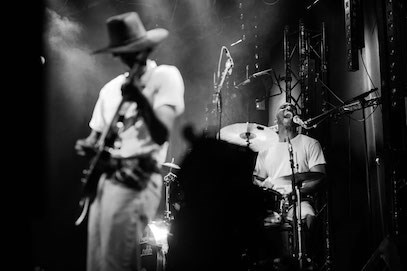 Cedric Burnside Project
About:
North Mississippi Hill Country Blues at its best-. Grandson of the legendary RL Burnside- Winner of FIVE Blues Music Awards USA- Best Drummer/ Best New Artist A powerhouse duo featuring Cedric Burnside on Drums/ Vocals/ Guitar and the amazing Trent Ayers on Electric Guitar.Born and raised around Holly Springs, Mississippi, Cedric Burnside,grandson of legendary R.L. Burnside and son of drummer Calvin Jackson, has been playing music all his life. He has developed arelentless, highly rhythmic charged style with strong hip-hop and funk nfluences. This four-time winner of the prestigious Blues Music Award's Drummer of the Year (2010-2014) is widely regarded as one of the best drummers in the world.Growing up at his grandfather's side, he began touring at age 13 playing drums for "Big Daddy" on stages around the globe. Cedric was "I writeabout my life, my kids, and everyday things. I try to stick to the truth," Cedric says. He recalls growing up without a radio or a TV. "My granddad used to play out on the porch, and we'd have house parties every weekend. Johnny Woods would come over and blow harmonica, and he'd drink two or three gallons of corn liquor. We just stomped up dirt." In addition to "Big Daddy," Cedric has also played and recorded with among countless others, Junior Kimbrough, Kenny Brown, North Mississippi Allstars, Burnside Exploration, Widespread Panic, Burnside Exploration, Jimmy Buffett, T Model Ford, Bobby Rush, Honey BoyEdwards, Galactic, Black Joe Lewis and the Honey bears and The John Spencer Blues Explosion. In 2006 he was featured in Craig Brewer's critically acclaimed feature film Black Snake Moan, playing drums alongside Samuel L. Jackson. (The film is a tribute to R.L. Burnside, and gives many nods to the late bluesman.)
In 2010, Cedric collaborated with his younger brother, Cody Burnside, and his uncle, Garry Burnside, to create The Cedric Burnside Project. They created a new genre of music by infusing Mississippi Hill Country Blues, Funk, R&B and Soul that will keep your foot stomping all night long. The Cedric Burnside Project has brought new life and energy to the blues, it's no wonder why it's loved by fans around the world.Following the untimely and tragic death of his brother Cody, Cedric has kept the flame burning, recording and touring the world with guitarist and ifelong friend Trenton Ayers.